Uganda/Rwanda
This is a trip to some of the largest Nature Reserves in Uganda. Though Uganda is not the first destination, when thinking of doing a safari, it houses some of the great parks in North-East Africa (Murchisson Falls and Queen Elisabeth) Furthermore this is the place for seeing the African Big Apes (gorilla's and chimpansee's) in the wild.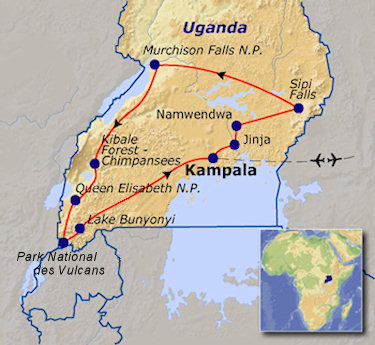 Murchison Falls National Park is Uganda's largest national park. It measures approximately 3,840 square kilometres. It's named after the Murchison Falls, a waterfall on the Nile. At the top of Murchison Falls, the Nile forces its way through a gap in the rocks, only 7 metres wide, and tumbles 43 metres, then flows westward into Lake Albert.
The park is subjugated by woodland, wetland, savannah as well as tropical forest that is well known to be a habitant for over 76 mammal species and over 450 different bird species. Among the big mammals include Hippo, Rothschild's Giraffe, Warthlog, Cape Buffalo, Uganda Kob, Hartebeest and Elephants. The Nile corridor of the Murchison has a big collection of water birds such as rare Shoebill Stork and also has a large concentration of Nile crocodile's.

Itinerary
Day 1
Day 2
Day 3
Day 4
Day 5&6
Day 7
Day 8&9
Day 10
Day 11&12
Day 13 - 15
Day 16
Day 17&18
Day 19
Day 20
Day 21
Entebbe
Ngamba Island
Jinja
Namwenda
Sipi Falls
En Route
Murchisson Falls
En Route
Kibale Forest
Queen Elisabeth
En Route
PN des Volcans (Rwanda)
En Route
Lake Bunyonyi
Kampala

Kibale National park covers an area of about 795 km and its acknowledged to have one of Uganda's most gorgeous tropical forest. Its a habitat to many forest wildlife and among these are 13 species of primates along with chimpanzees.

Queen Elizabeth National Park is a wonderful national park, sometimes dubbed 'the Pearl of Africa or Switzerland of Africa'. Quite simply this fertile equatorial area is especially scenic, with two lakes connected by a channel overlooked by a high peninsula. You will also find volcanic craters, grassy plains and tropical forest. As a result it has one of the highest biodiversity ratings in the world.
The wide bio-diversity of habitats means that Queen Elizabeth National Park contains the most astonishing number of species - almost 100 types of mammal and 606 different birds! The Kasinga Channel alone is said to contain the world's largest concentration of Hippos, but interestingly enough not many Crocodiles! Other wildlife includes Warthogs, Buffalo, Antelope, Giant Forest Hog, beautifully horned Uganda Kob, Topi, Waterbuck, Elephant and Leopard.

The 125 sq km in area Parc National des Volcans was founded in 1925 by the Belgian colonial authorities. The park is most of all known for its recognition of international researcher Dian Fossey (Gorillas in fog) who lived and worked here for many years. She studied the way of life of the vegetarians and different habitual gorilla families. She was murdered in her research station, "Karisoke" presumably by the poachers on the second day of Christmas in 1985. If it wasn't for her fight and action, there would probably be no more Gorillas in Rwanda today. The tropical mountain forest on the slopes of Virunga-Volcano ranges offers the mountain gorillas an excellent habitat. These ranges act at the same time as the national border for the Democratic Republic of Congo and Uganda.
Trip Report
This trip was be made in juli 2009
The beautifully landscaped Botanical Garden Entebbe, established in 1901, lie on the shores of Africa's greatest lake. The park offers a superb introduction to Ugandan birds and is situated conveniently close to the capital and international airport. Birds seen here included the Black-and-white-casqued Hornbill.
Ngamba Island Chimpanzee Sanctuary was established in October 1998 to care for these orphaned chimpanzees that have been rescued by the Uganda Wildlife Authority from poachers and traders, with no chance of survival back to the wild. It provides these orphaned chimpanzees with a secure home to live out their lives, since a return to their natural habitat is not possible, while educating visitors and local communities about their remarkable species and the importance of conserving their fragile forest habitat.

Uganda/Rwanda
The list give's a nice idea of the things I h've photo- graphed.
So explore the list, to see nice picture's of different familie-goups; there are also detailed list available of the different species.
There are also some pictures available of the scenery.
When you want to know more about these islands, you have to visit my travelpages.
Jinja, location at Source of the Nile, is best known for the river rafting crossing the Bujagali Falls.
Sipi Falls is actually a series of three tall waterfalls all plunging along the lower slopes of Mt Elgon (the 4th highest peak in Africa shared between Eastern Uganda and Western Kenya).
At Murchison Falls National Park we did about 4 gamedrives seeing lots of birds (Denham's Bustard, Giant Kingfisher) and mammals (Lion, Uganda Kob, Oribi and lots off Elephants
One of the highlight of a visit to Murchison is the launch trip upstream to view the Falls and riverside wildlife. From the boat landing spot we had the opportunity to climb to the top of the falls to get close to the narrow gorge through which the river explodes into the falls. Another additional boat trip heads downstream from Paraa to the papyrus delta at the river's entrance into Lake Albert. On this trip we have seen the Shoebill stork and a variety of other wildlife.
Kibale National Park is best know for it's Chimpanzee tracking. On our track we encountered a small chipm-familie eating in a fig-tree.
Close to this park lies the Bigodi Wetland Sanctuary It's famous for wildlife such as Red Colobus, Black and White Colobus, Red Tailed Monkey. It has about 138 bird species and these can be seen during the nature walks.
During the game-drives in the Queen Elizabeth National Park i have seen, Giant Forest Hog, a large group off Banded Mongoose and a Leopard at very close distance. A cruis on the Kazinga Channel give's us African Spoonbill, Pink-backed Pelican and a Bare-faced Go-away-bird.
In the Parc National des Volcans i did a Gorilla Tracking. The conditions in a tracking tour are very strict. The leader and the tracker who already set off early in the morning locate the animals within 1-2 hours, but also 4-5 hours can be needed. The steep slopes of the mountainous forest landscape, the saddened or muddy floors are crossed by small rivers and thick undergrowth with many nettles and thorny plants; this makes the gorilla tracking a tiring event and needs to be done by a healthy person with a fit body. The leader will caution you against some behavioural habits and make you a walking stick if you need. You are allowed to watch the gorillas closely for a maximum of 1 hour in order not to interfere with their behavioural patterns.
Located 1962m above sea level and surrounded by steep sided heavily cultivated mountainous scenery. Lake Bunyonyi (the word means 'the place of many little birds') is about 25 km long and 7 km wide, with 29 islands dotting the centre of lake. Bird watching is one of the main reasons that so many tourists 'flock' to Lake Bunyonyi.