Galapagos Islands
The Galapagos Islands form a volcanic archipelago straddling the equator some 960 kilometres off the coast of Ecuador. They consist of volcanic peaks, strange lava fields, beautiful sandy bays, and clear seas. Their natural history is outstanding, and much of it is endemic. There are Giant Tortoises, prehistoric-looking Land and Marine Iguanas, and countless breeding seabirds; most appealing of all is the 'tame' and obliging nature of the islands' extraordinary wildlife.

Santa Cruz
Santa Cruz possesses all of the various life zones present in the archipelago, with wonderful birding opportunities. Whether it's the bright red feathers of a Vermilion Flycatcher or one of Darwin's finches almost every land bird present in the islands can be found here. Several farms serve food and allow visitors to explore their grounds in search of tortoise
A dinghy ride into Black Turtle Cove, located on the north coast of Santa Cruz, a bit west of Baltra, provides a window into a quiet Galapagos hideout.
Once into the cove, the boat continues with its engines off and begins to explore the mangrove-sheltered cove. Sea Turtles feed and mate in the calm waters and three species of sharks are found there – the Black-finned Reef Shark, the White-tipped Reef shark, and the Galapagos Shark.

Isabela

The majority of Isabela residents make their living by fishing, farming, and tourism. The center of population is on the southern coast at Puerto Villamil.
The island's rich fauna is beyond compare. It is home to more wild Tortoises than all the other islands combined, with a separate species on each volcano.
On the west coast of Isabela the upwelling of the nutrient-rich Cromwell Current creates a feeding ground for Fish, Whales, Dolphins, and Birds.
These waters have long been known as the best place to see whales in the Galapagos. Some 16 species of whales have been identified in the area including Humpbacks, Sperms, Sei, Minkes and Orcas.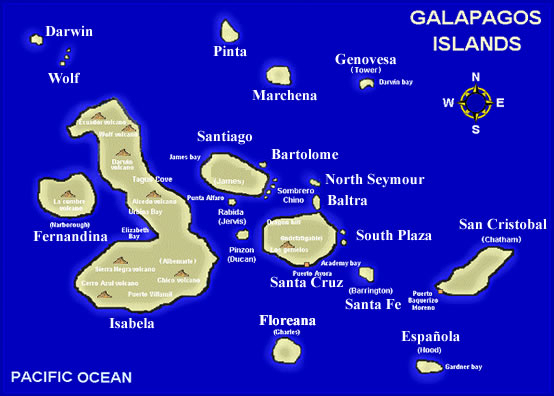 The lagoon at Elizabeth Bay is a resting and feeding place for Sea Turtles. The mangroves surrounding it are principally Red and Black Mangroves. Visitors will also see Rays, Fightless Cormorants, Penguins, Pelicans, Lava Herons, and other species.

Fernandina
Fernandina is the most pristine of the Galapagos Islands. Two species of the endemic Rice Rats are found there. The majority of rice rat species on the other islands went extinct following the introduction of Black and/or Norway Rats.
The highlights along the coast include Marine Iguanas and Flightless Cormorants. Other attractions include Penguins, Sea Lions, Sally Lightfoot Crabs, and occasionally Galapagos Hawks and Land Iguanas.
Punta Espinosa is also one of the best places to see the Lava Cactus. One of the first species to grow on young lava, it can survive with very little water.

Santiago
Santiago is visited by the majority of tourist boats with wonderful visitor sites at James Bay on the northwest and Sullivan Bay on the southeast. Puerto Egas at the south end of James Bay provides one of the best opportunities for visitors to see the Galapagos fur seal. The focus of conservation work on Santiago in the last decade has resulted in rapid recovery of much of the vegetation and many of the native species. However, the presence of introduced plants and black rats continue to cause problems within the natural ecosystem. Santiago also has several satellite islands, especially in the southeastern side of the island. Two of these, Bartolomé and Chinese Hat, are visitor sites, while others provide excellent dive sites.

Santa Fe
Despite its small size, Santa Fe is home to a large number of species, including a large population of Sea Lions, a healthy population of Land Iguanas – some of the smallest in the islands, numerous Marine Iguanas, and cliffs full of nesting seabirds, such as Swallow-tailed Gulls, Red-billed Tropicbirds, Galapagos Shearwater, Nazca Boobies, and several other species.


Itinerary
Day 1
Day 2
Day 3
Day 4
Day 5
Day 6
Day 6
Day 7
Day 8
Day 9
Day 10
Day 11
Day 12
Day 13
Day 13
Day 14
Day 15
Baltra - Santa Cruz (Highlands)
Sombrero Chino - Rábida
Isabela (Sierra Negra Volcano)
Isabela (Moreno Point - Elizabeth Bay)
Isabela (Urbina Bay - Tagus Cove)
Fernandina (Espinoza Point)
Isabela (Vicenta Roca Point)
Santiago (Puerto Egas) - Bartholomew
North Seymor - Santa Cruz(Cerro Mesa)
South Plaza - Santa Fe
San Cristóbal (Cerro Brujo - El Junco)
Española (Gardner Bay - Suárez Point)
Floreana (Cormorant Point - Highlands)
Santa Cruz (Dragon Hill)
Santiago (Sullivan Bay)
Genovesa (Darwin Bay - Phillip's Steps)
Santa Cruz (Black Turtle Cove)
San Cristóbal
El Junco is one of the few permanent fresh water lakes in the Galapagos. It is located in the highlands of San Cristóbal at an altitude of 700 m. The lake itself sits in a caldera (collapsed cone) of an extinct volcano and is about 300 m wide.
El Junco is a good place to view White-cheeked Pintail Ducks, Common Gallinules, Miconia bushes, the endemic Tree Ferns and it is one of the best places to catch sight of the endangered San Cristobal Mockingbird.

Española
The highlight of this visitor site — and perhaps one of the highlights of the Galapagos Islands — is strolling along the edge of the Waved Albatross breeding colony. With a population of 25.000 to 30.000, nearly the entire world population of the adult birds can be found on Española between April and December.
The entire colony leaves Española by January to fish for three months before returning. The young albatrosses will remain at sea for about five years before returning to Española to seek their mate.
Snorkelers will marvel at schools of large colorful tropical fish, including Yellow-tailed Surgeon Fish, King Angelfish, and Bump-head Parrotfish. A few underwater caves teem with wildlife, and there are rocky walls covered with various invertebrate species. The occasional massive Manta Ray or Spotted-Eagle Ray may glide by as White-tipped Reef Sharks nap on the ocean floor in rocky areas. This snorkeling site also offers a wonderful chance to swim with playful sea lions.

Floreana
This site offers two contrasting beaches: the first is a green sand beach, made green by the presence of olivine crystals, and the second is Flour Beach, made of fine, pulverized coral. The main highlight at this visitor's site is the flamingo lagoon, where visitors can watch Galapagos Flamingoes wade through brackish water, sifting through the mud for shrimp.

Genovesa
Genovesa has developed a reputation as "The Bird Island" because of the numerous and varied bird species that nest there.
Visitors can explore two visitor sites and will be impressed with the abundance of Frigatebirds, Nazca and Red-footed Boobies, Swallow-tailed Gulls, Storm Petrels, Red-billed Tropicbirds, Finches, and Mockingbirds, among other bird species.
Genovesa is one of the few places in the Galapagos Islands where Red-footed Boobies are found en masse. The marine iguanas found along the shoreline are the only reptile on Genovesa and are the smallest in the archipelago.
Trip Report
I made this trip in december 2016, with a traditional motor sailing yacht the Cachalote 1. The yacht is quite noisy and the cabins are smal, but it was a real pleasure to sail with it. I managed to get about 230 new species; which include 38 Birds, 60 Fish, 72 Plants and about 60 other species (Mammals/Reptiles/ Invertebrates)
After a pleasant flight out of Quito and a quick transfer on Balta-island we went for a visit to the Highlands of Santa Cruz. The first stop was at Los Ge- melos, where the first Darwin-finches were recorded. (Small Ground Finch, Medium Ground Finch, Small Tree Finch).
The Rancho el Manzanillo was the place to see the Giant Tortoise, and beside that there where again nice birds (Galapagos Mockingbird, Galapagos Flycatcher, Western Cattle Egret) We ended at Puerto Ayora, where on the fish-market there where sightings of Galápagos Sea Lion, Galapagos Brown Pelican, Lava Gull, Yellow-crowned Night Heron and Magnificent Frigatebird.
The next morning I was up at daylight and I made some very nice vieuws of the Elliot's Storm Petrel. On the landing site at Chinese Hat we encountered the Galápagos Sea Lion, Galapagos Hawk, a lot off Sally Lightfoot Crab's and a nice Semi-terrestrial Hermit Crab. A snorklimg-session give's me pictures of Galapagos Ringtail Damselfish, Guineafowl Puffer and Mexican Hogfish. The afternoon stop at Rabida Island brouht me pictures of Common Cactus Finch, Least Sandpiper and a Giant Huntsman-spider.
Our first landing on Isabela was at the small city of Puerto Villamil, where we got into a lorry, which brought us at the top off the Sierra Negra Volcano. Its caldera measures 10 km across from north to south and 9 km from east to west, and is considered to be the second largest caldera in the world. The last erruption was in 1979 and in the northern corner there is still a system of fumaroles visible. Here we had great vieuws of a Vermilion Flycatcher, Woodpecker Finch and Galapagos Martin. Back at town there was a visit to the Tortoise Breeding Station. This center was created to protect animals in their first years of life from the threats of foreign species such as pigs and donkeys. Giant tortoise eggs are collected and brought to the center where they are hatched and kept for five years before being released to their natural environment. To the west of Puerto Villamil there are various salt and brackish lagoons, where American Flamingo, Black-necked Stilt and Blue-winged Teal where seen. The vegetation consists of White Mangrove, Jerusalem Thorn, Manzanillo and Darwin's Cotton. Drinking a beer on the beach at sunset; this was really looking as a tropical island
The trail at Moreno Point leads threw lava rock which is dotted with numerous lagoons containing a wide variety of life. (Common Gallinule, White-cheeked Pintail, Tawny Pennant, Spot-winged Glider and White-tipped Reef Shark) The lava flow is very young and has several endemic plant-species (Mollugo, Lava Cactus, Thin-leaved Aster) known to be early pioneers in barren lava fields. A panga ride at Elizabeth Bay gives great vieuws off Franklin's Gull, Great Blue Heron, American Yellow Warbler, Green Sea Turtles, Eagle Ray, Pacific Cownose Ray and a Common Dolphinfish.
Galapagos Islands
This list, give's you a nice idea of the things I h've photographed. So explore the list, to see nice picture's of different familie-goups; there are also detailed list available of the different species.
There are also some pictures available of the travelpages.
This trip is made possible by

A snorkling session at Urbina Bay gives me good pictures off Galapagos Puffer, Cortez Rainbow Wrasse, Black-striped Salema, Spotfin Porcupinefish, Chocolate-chip Star, Panamic Cushion Star, Thick Spine Pencil Urchin and Green Sea Urchin. At Targus Cove a panga ride along the cliffs provides great vieuws of Brown Noddy, Striated Heron, Blue-footed Booby and Galapagos Penguin.
At the landing site Punta Espinosa a large group of Marine Iguanas was lying on the rocks trying to heat up. In between them several nesting Flightless Cormorants, Lava Heron's and Small Ground Finch feeding on the parasites from the skins of the iguanas. at the edge there was a Fernandina Snake waiting for something to eat. Indeed a very nice site; hopefully it can be secured for the arrival off aggressive exotic species.
Our panga ride along the coast at Vicenta Roca was interupted by the signs of an Orca, which was approachable at about 200 meters. Back on board of the Chachalote we sailed along the northern tip of Isabela island and around 15:00 hours we celebrated the equatorial crossing with a glass of champagne. At sea I saw Galapagos Shearwater, Madeiran Storm-Petrel, Red Phalaropes, several Ocean Sunfish and a large group of Common Dolphins and some Pacific Bottlenose Dolphin.
The trail at Puerto Egas leads along large Galápagos Prickly Pear cactuses to the coastline with some tidel pools. Here I made pictures of some Galápagos Fur Seals, a jumping Giant Manta and several jumping Munk's Devil Ray's. A snorkling session provides sightings of King Angelfish, Blue-barred Parrotfish and large group of Razor Surgeonfish. At Bartolomé a climb leads to the 114-m summit of an extinct volcano, whith great vieuws on the surrounding scenery. Along the way, various volcanic formations including spatter and tuff cones and lava flows where seen. The plants adapted to this site are Chamaesyce and Gray Matplant.
The main objective to visit North Seymour is a colony of Magnificent Frigatebirds. As it was breeding season the males have a bright red throat pouch that they puff out to attract a female. The island is covert with carpetweed on whitch the Galapagos Carpenter Bee feeds. At 490m above sea level, Cerro Mesa provides an impressive view of the archipelago. At the west side of this farm is the largest crater on Santa Cruz which features the gigantic Santa Cruz Prickly Pear Cactus (about 12 meters high) On this place we founs several missing finches (Large Tree Finch, Vegetarian Finch, Green Warbler-Finch); endemic plants (Galapagos Ground Cherry, Galápagos Tomato, Tree Scalesia) and the Galápagos Sulphur Butterfly.
South Plaza houses a large colony of the Galapagos Land Iguana and along the cliffs I made pictures of Swallow-tailed Gull, Red-billed Tropicbird. The snorkling session on Santa Fe gives me nice pictures of Threebanded Butterflyfish, Barred Serrano, Bluespotted Cornetfish, Panamic Sergeant Major.
The main objective on the landing site Cerro Brujo was to find San Cristobal Mockingbird and San Cristobal Lava Lizard and greatfully I succeeded. When snorkling I had a clouse encounter with playful Galápagos Sea Lion and a Diamond Stingray. While sailing onto Puerto Baquerizo Morene at last I pictured a Galapagos Petrel. Until this moment I spent at least 15 hours on deck to search for this bird; but this was ........


The next morning we landed at Gardner Bay. There is no fresh water on Espanola, so we where warned that the present Large Cactus Finch and Hood Mockingbirds will by quite aggressive trying to steal water, and indeed they did so. The trail at Suarez Point passes by a small beach occupied by Sea Lions and large and colorful Española Lava Lizards, along an impressive nesting colonies of Nazca Boobies and then on some barren rocky cliffs the Waved Albatrosses revealed theselfs. With a wingspan of about 250 cm indeed they are impressive; one of the highlights of my Galapagos-trip
Devil's Crown is one of the best snorkeling sites in the Galapagos, this volcanic crater has been eroded by the waves leaving the northern and southern sides poking out of the water. The coral reef in the middle is perfect for attracting marine life; here I saw Large-banded Blenny, Pacific Creole Fish, Bradley's Sea Star and a Red Spiny Lobster. Out of the small village Puerto Velasco Ibarra a 45-minute ride leads us to Asilo de la Paz. It is primarily an historical site where you can view the cave of the pirates and the fresh water spring that is the main source of water for the population. In the surroundings we found Medium Tree Finch, Galapagos Dove and a Paint-billed Crake.
At Dragon Hill there are two small salt-water lagoons, where I found Western Sandpiper, Least Sandpiper, Hudsonian Whimbrel. While snorkling along the beach I made pictures of Galapagos Triplefin Blenny, Galapagos Searobin, Balloonfish, Giant Damselfish and some Stone Scorpionfishes. The lava flow at Sullivan Bay was formed in the second half of the 19th century and gave us a good opportunity to see the beautiful structural characteristics that remained.
The water at the snorkling site Darwin Bay is very nutrient-rich and I hade close encounters with 5 different Scalloped Hammerheads. The Prince Philip's Steps are a steep stairway that leads to the only nesting site of Red-footed Boobies. At the end of the trail you can look out over a rocky lava plain where Wedge-rumped Storm Petrels fly in all directions. Quite unusual is that these are the only storm-petrel that visits its colonies during the day. Short-eared Owls are the major predators of the storm-petrels and I saw 6 of them. With about 5.000 stormies and 6 owls this is also one off the highlights of this trip
After a panga ride at Black Turtle Cove it was time to get to the airport and my visit to the Galapagos was ended.