Ecuador
The stunning biodiversity of Ecuador owes to its three different ecological zones in the mainland – coastal plains, Andean paramo, and tropical rainforest.
Among the dense trees, towering highlands, turquoise waters, and coastal habitats live thousands of native and endemic species of mammals, reptiles, amphibians, birds, and insects, all uniquely adapted to life on the equator.
Ecuador is home to over 1.600 bird species, most of which can be seen in the Amazon. If you can, check out a clay lick, where vibrantly colored parrots and parakeets flock to absorb the sodium and antioxidants that help balance their fruit-rich diets.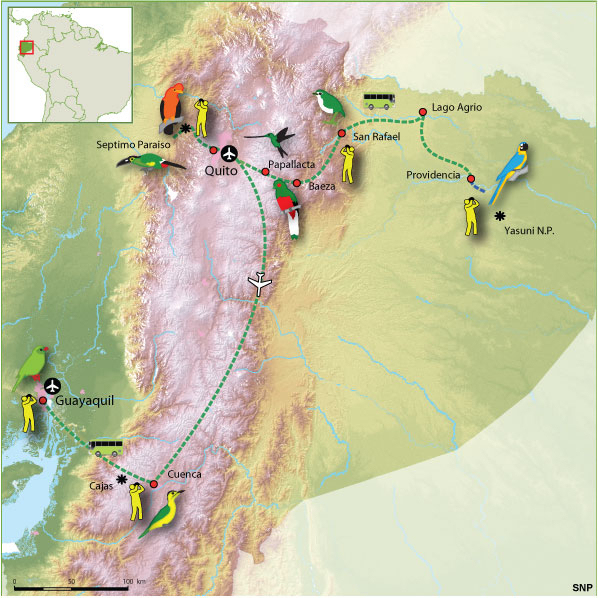 Choco Region
The Chocó-region, on the western slopes of the Andes ranges from 2,200 meters above sea level to 900 meters. This exceptional difference in altitude means that a fantastic array of plant and animal species (many of them endemic, or unique, to the area) make their habitat. This include more than 350 species of birds, were the most noticeable are the Partridge, Andean Cock-of-the rock, Hummingbirds, Woodpeckers and more.


Antisana Ecological Reserve
One of the impressive reliefs of the place is the moors of the volcano Antisana between the 3.300 and 4.800 meters. It contains extensive grassland (marsh full of reeds) that are mixed with creeping plants, amohadillas, shrubland and several Andean forest remnants. Wildlife is composed by several endangered species in Ecuador such as the Andean Condor, Spectacled Bear and the Mountain Tapir.


Sacha Lodge
Founded by Arnold "Benny" Ammeter, this lodge has been a part of the Amazon experience since it was built in 1992. It is located in the lush forests of its own 5.000-acre private nature reserve, accessible only by motor-canoe from Coca.
One of Sacha Lodge's highlights is the 43 meter observation tower. Another is the 275-meter long canopy walkway. At approximately 30 meters above the ground.

Cayambe Coca National Park
The Cayambe-Coca Ecological Reserve is a natural area located 107 kilometers North of Quito. Their main mountains are the Cayambe 5.790 meters, Sarahurco 3.485 meters, Puntas 4.425 meters and the Reventador a young and active volcano.
The reserve has one of the biggest biodiversity of Ecuador. It is divided in two parts, the lowland rainforest, located in Napo and Sucumbios and includes the Reventador Volcano, the San Rafael-cascade and the community of Cofan de Sinangue and the montano rainforest or highland that covers the occidental part of the Reserve and it reaches Papallacta in the Pichincha province.

Cabañas San Isidro
Cabañas San Isidro and its immediate surroundings boast a bird list of about 330 species, many of which are more easily found here than anywhere else in the country. We are situated at about 2.050 meters above sea level, but the trails lead through habitats from 2.400 meters all the way down to 1.900 meters. What this means to birders is an ideal base to observe Andean birds from the lower reaches of the temperate zone down into the heart of the subtropical zone.
Itinerary (Trip 2016)
Day 1
Day 2
Day 3
Day 4-6
Quito
Mindo (Choco Region)
Antisana Ecological Reserve
Amazon Rainforest (Sacha Lodge)
San Rafael Waterfall
San Rafael Waterfall is considered one of the largest in Ecuador and is surrounded by thick vegetation which makes them a wonderful scenery.
The waterfall has a drop of more than 150 meters, formed by the descent of the Coca river.

Yasuni National Park
Yasuni covers around 10.000 square kilometres along the south bank and, together with areas on the opposite bank of the Napo, a small zone exists where animal and plant species diversity all reach their maximum levels within the western hemisphere. Nowhere are there a greater number and diversity of amphibians and reptiles, with approximately 35% of all species in the Amazon basin. In addition, round 600 species of birds have been seen, including many species of parrots and macaws that gather on a daily basis in their hundreds at know mineral licks. Mammal diversity is also extraordinary; there are numerous primates ranging from the diminutive Pygmy Marmoset to the raucous Red Howler Monkey.

Milpe Bird Sanctury
The Bird Sanctuary covers an altitudinal range from 1020-1150m. Opened in March 2004, Milpe has recently been expanded to 100 hectares, now including the adjacent 'Milpe Gardens' which has easier access to the Chalhuayacu river valley and makes a great addition to our already ample trail system.
Birding guides consider this one of the finest sites in all of Ecuador and many of the most spectacular Chocó Endemics occur here: Plumbeous Forest-Falcon, Plate-billed Mountain-Toucan, Glistening-green Tanager, Chocó Trogon. The highlight of the forest is the Club-winged Manakin lek, where during most of the year the males display on perches close to the trail.

Rio Silanche Sanctuary
Rio Silanche Bird Sanctuary (100 hectare) protects a remnant lowland forest (altitude 300-350 m.)and was created as a sanctuary for many Choco endemics that are currently threatened by the significant clear-cutting of forest in the area. Many of these endemics are quite rare or uncommon but may be seen in the preserve. An observation tower reaching into the mid-story provides good vantage for seeing canopy and mid-story birds.
The reserve is often a good place to see raptors. Species you can see there include the rarely seen Black Hawk-Eagle as well as more commonly seen Double-toothed Kite and Gray Hawk.

Itinerary (Trip 2018)
Day 1
Day 2-4
Day 5
Day 6-8
Day 9
Day 10
Day 11
Day 12
Day 13
Day 14
Day 15
Day 16
Papallacta (Cayambe Coca N.P.)
Baeze (Cabañas San Isidro)
San Rafael Waterfal
Yasuni National Park
Mindo (Milpe Bird Sanctury)
Mindo (Rio Silanche Sanctuary)
Mindo (Refugio Paz De Las Aves)
Bellavista Cloud Forest
Cuenca
Cuenca (El Cajas National Park)
Guayaquil (Manglares Churute)
Guayaquil (Cerro Blanco)
Refugio Paz De Las Aves
At 1.400 meters is a medium altitude private cloud forest located between Nanegalito and the road to Mindo. It has 30 hectares of primary and secondary recovering cloud forest. There is a main trail and multiple side trails where the two brothers will take you to see the most amazing bird show in the wild. You can see birds that would be almost impossible to see in the wild only 5 ft away! They have trained the Giant Antpitta (called Maria), the Chestnut-crowned Antpitta and the Yellow-breasted Antpitta to eat worms. Also, there is a lek that has been performing since 2005 with the beautiful Cock-of-the-rock.

Bellavista Cloud Forest
Bellavista Cloud Forest (altitude 2.000 - 2.800 m) borders the Choco bio-region and is surrounded by its own 1.730-acre reserve of orchid and bromeliad laden cloud forest containing the world's greatest diversity of epiphytes. The area is home to around 300 species of birds, including the Plate Billed Mountain Toucan.

El Cajas National Park
El Cajas National Park is 29,000 ha in size with as many as 250 lakes and ponds located within the park, making it vital water source in the region. Most of El Cajas lies above 3.000 meters elevation, with páramo covering most of the rugged terrain. Frost and ice above 4.000 meters try their best to deter the thriving of hardy vegetation, such as the tiny quinoa tree, which clings to life higher than any other tree in the world. It contains up to 125 different species of birds, like the Condor, Violet-throated Metaltail and the Ecuadorian Hillstar.

Manglares Churute Ecological Reserve
The Manglares Churute Ecological Reserve contains approximately 50.000 hectares of mangroves and dry tropical forests. The mangroves incorporated within the Manglares Churute Park make up 67% of the entire park and are protected from shrimp farming which is prevalent in the area. The Manglares Churute Reserve also contains salt flats that are popular with a variety of shorebirds like the Roseate Spoonbill, Osprey, Egrets and Laughing Gulls. It is also one of the areas that you can find and see a feathered Horned Screamer.

Bosque Protector Cerro Blanco
Bosque Cerro Blanco is a 6.000 acre plus reserve of dry tropical forest a few miles outside Ecuador's largest city, Guayaquil. The reserve was set aside by the cement factory (which is adjacent) in cooperation with the government to save habitat for the endangered Guayaquil Green Macaw. It's one of the best examples of a preserved tropical dry forest in the country.
Trip Report
This trip was made in march 2016. The main focus was on Birds (about 185 new species) but i did manage to find about 250 other new species. (Butterfly/Mammals/Reptiles/Plants/Others).
.
The most important fact of this place beside the birds is that the owners used to cut the forest for living and now have become forest protectors!

Ecuador
This list, give's you a nice idea of the things I h've photographed. So explore the list, to see nice picture's of different familie-goups; there are also detailed list available of the different species.
There are also some pictures available of the travelpages.
This trip is made possible by

Bergendal is a luxury Eco & Cultural River Resort, where the lodges are dotted in a large natural surrounding. The grounds of the resort are holding a nice collection of Birds (Channel-billed Toucan, Black-necked Aracari, Black-spotted Barbet, Green-backed Trogon, Barred Antshrike and Blue Ground Dove ), Mammals (Orange-rumped Agouti, Proboscis Bat), Dragonfly (Golden Amberwing, Fine-banded Amberwing, Black Dasher and Acanthagrion ascendens) and Reptiles (Spectacled Caiman, Brown Sipo, Rhinella granulosa, Mourning Gecko)
The visit to the Savannah Zone was an nice experience, course the type of vegetation is completely different to the other locations on this trip. Therefore other birds (Burrowing Owl, Pearl Kite, Spangled Cotinga, Red-shouldered Macaw, Brown-throated Parakeet, Red-breasted Blackbird and Rufous-crowned Elaenia) and Plants (Chamaecrista ramosa, Amasonia campestris, Cleistes rosea and Tibouchina aspera).
The next day around midday we arrived at the Mazaroni top of Brownsberg Natural Park where the sleeping/eating accommodations are situated. The restaurant owner told us a nice story: a couple of years ago he found a young injured Grey-winged Trumpeter where he took care for. After it was recovered, the bird was left free, but stayed in the surroundings of the buildings where he found the remnant of the served meals. After a couple of months however the bird disappeared. About six months later a small group Trumpeter's visited the site again, and the owner ecognized one of them, becourse it was still a bit limping. Nowedays several goups of Trumpeter's are comming here to find some food. And indeed, a group of 8 birds arrived, feeding on the leftovers of our lunch.
In the afternoon we made a walk along some tracks around the buildings where I made nice pictures off Birds (Racket-tailed Coquette, Green Aracari, White-chinned Sapphire, Fulvous-crested Tanager and Purple Honeycreeper) Butterfly (Archaeoprepona demophon, Heraclides thoas, Morpho achilles, Striped Blue-Skipper) and Reptiles (Giant Ameiva, Rainbow Whiptail and Black-Spotted Skink)
In the late evening the rain started and it continued the next day, so it was a bad day for photographing. In the evening some great vieuws of amphibians (Rhinella margaritifera, Rhinella granulosa, Three-striped Poison Frog) and curious insects (Geoplanidae spec., Fulgora laternaria) compensated it a little.
Fortunately the last morning we had reasonable weather, so i got nice pictures of Golden-winged Parakeet, Guianan Toucanet, Tropical Parula, Double-toothed Kite and King Vulture). Brownsberg is one off the best places finding mammals, but due to the rain i have missed them all
The Bigi Pan Eco Resort is located in the western edge of a great lake; to reach it we had a 1 1/2 hours boat-trip out of Nickery. During this trip i managed to get pictures of Cocoi Heron, Great Horned Owl, Great Black Hawk. The lake itself is hosting a large group (about 3.000) American Flamingo's and in the evening large groups off Snowy Egret's, Tricolored Heron's, Scarlet Ibis's and Snail Kite's are comming in to roost in the trees. The next day we did a couple of trips in the surrounding mangrove-swamp. Here we got sightings of Roseate Spoonbill, White Woodpecker, Black-crested Antshrik, Dusky-capped Flycatcher, and a Magnificent Frigatebird. The last morning we made up our way to the ocean. This was a good place for waders (Stilt Sandpiper, Short-billed Dowitcher, Western Sandpiper, Hudsonian Whimbrel) Wood Stork and White-cheeked Pintail.
It'is a 1 hour flight from Paramaribo out to Palumeu. The flight gives a good impression of the unspoiled jungle of the Sipaliwini-district of Suriname, but the panorama was fiercely interrupted by sightings of the Rosebel Gold Mine concession, which has ruined about 5.712 hectares of rain forest now.
In the afternoon we did our first walk through the jungle. It's not an easy job to get pictures in this dark/humit environment, but I succeeded in getting some pictures of Screaming Piha, Golden-headed Manakin and a Black-eared Fairy.
The next morning we took the canoe to navigate the Tapanahony River on the way to Poti hill. On the river we had some great vieuws off Capped Heron, White-banded Swallow, Ringed Kingfisher, Red-fan Parrot, Southern Mealy Amazon and Scarlet Macaw. Poti hill is a steep grannit hill about 40 meters high and gives nice vieuws of the surrounding canopy. Unfortunately it started to rain when we where on the top, so there was not much activity to see. It's a 2 hours walk through dense jungle to get back to the river; where i got pictures off Plain Xenops, Dusky Antbird; a rare frog-species (Rhinella lescurei) and a nice lizzard (Smooth Tegu). In the late afternoon we did a nice walk around the village with good vieuws off Bat Falcon, Paradise Jacamar and Golden-spangled Piculet.
The next day the rain was getting worser, so I stayed around the lodge, walking around with an umbrella. Weird enough this gave me great pictures of Butterfly (Teleus Longtail, Helicopis cupido, Riodina lysippus) and more expected Dragonfly (Rainforest Bluewing, Orthemis schmidti and Band-winged Dragonlet). In the afternoon (when the rains where stopped) another visit to an open space in the jungle brought Black-headed Parrot, Painted Parakeet, Pink-throated Becard, Purple-throated Fruitcrow.
The last morning we went bach to the jungle with again nice parrots, Black-tailed Tityra, Opal-rumped Tanager and a close encounter with a Tayra; an omnivorous animal from the weasel family. When visiting Suriname, i truly recomand a visit to the inland
Back in Paramaribo; in the afternoon a did a second visit to Peperpot, whith other Birds (Laughing Falcon, White-flanked Antwren, Cinnamon Attila and a Ruby-topaz Hummingbird.
The last day we brought another visit to the Cultuurtuin whith sigths of Violaceous Euphonia, Crimson-hooded Manakin, Black-throated Mango and Yellow-bellied Elaenia.