Svalbard - Greenland - Iceland
This is a combi-trip. First I will do some days birding in Longyearby; Then I will board the "Plancius" for the Northeast Greenland 2013 expedition and after that I will end with a 10 day visit to Iceland; touring around the Nort/East/South Coast.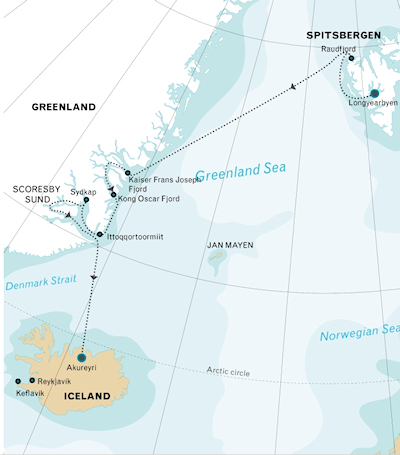 Svalbard
With its rugged mountains, sweeping tundra, ice-caps and glaciers, Spitsbergen is a true high-Arctic archipelago, and only 1.000 kilometres from the North Pole. Spitsbergen is still today a virtually unspoilt wilderness with abundant wildlife. This wildlife was once a huge draw for whalers and trappers, but now discerning visitors are discovering the attractions of huge Arctic seabird colonies and the chance to enjoy and photograph species such as Walrus, the indigenous Svalbard Reindeer, Arctic Fox and, of course, Polar Bear. Several whale species, such as the magnificent Beluga, Minke Whale and Fin Whale, are also found in the waters surrounding Spitsbergen.
The huge bird cliffs along the Spitsbergen coasts are a major attraction. Spitsbergen is a breeding ground for large numbers of guillemots such as the Brunnich's and the Black Guillemot. Other bird species such as Atlantic Puffin, Little Auk, Northern Fulmar and Kittiwake can also be found on or around the cliffs, while the Arctic Tern, Ringed Plover, Purple Sandpiper and four species of skua prefer the tundra. On top of the list of many birders are the rarely seen, elusive gulls - Ivory, Sabine's and Ross's.
Due to the warming influence of the Gulf Stream temperatures on the west coast are relatively high. Spitsbergen therefore has an Arctic flora and fauna. In the far north-east, where the Gulf Stream is much less strong, it is High Arctic. There is an amazing variety of plants, 164 species of flowering plants having been identified.


Itinerary
Day 1
Day 2
Day 3
Day 4
Day 5&6
Day 7
Day 8
Day 9
Day 10-12
Day 13
Day 14
Day 15
Day 16
Day 17
Day 18
Day 19
Day 29
Day 21
Day 22
Day 23
Amsterdam - Oslo - Longyearbyen
Pyramiden - Nordenskiöld Glacier
Longyearbyen - Boarding Plancius
Raudfjord - Moffen Island
At Sea
Daneborg
Keijser Frans Josef Fjord
Kong Oscar Fjord Fjord
Scoresby Sund
Ittoqqortoormiut
At Sea
Akureyri
Húsavík - Jökulsárgljúfur N.P.
Mývatn
Jökulsárgljúfur N.P. - Egilsstađir
East Coast - Höfn
Vatnajökull National Park
Skaftafell Nationaal Park
Laugarvatn (Geysir - Gullfoss)
Thingvellir - Reykjavik
Greenland Cruise
The coastline of Greenland is spectacular. Heavily indented with numerous fjords, the coastline consists of spectacular high mountains, 2.000 meters high cliffs and innumerable glaciers. The large glaciers produce the huge, cathedral-like ice-bergs that are abundant in Greenlandic waters. The largest fjord is Scoresby Sund and is more than 300 kilometres long. Our voyages focus on East and North-East Greenland, among the most isolated, sparsely populated and scenically superb parts of the island.
Greenland and its surrounding waters are home to an impressive array of bird life. There are about 50 bird species on the island such as Gyrfalcon, Snowy Owl, Barnacle and Pink-footed Goose. Greenland is also home to quite some terrestrial mammal species: Arctic Wolf, Arctic Fox, Ermine, Collared Lemming, Muskox and the Arctic Hare. In the coastal waters of Greenland there are Fin, Minke and Humpback Whales, Narwhals and Belugas (White Whales). Blue Whales, Sperm Whales and Pilot Whales are also seen occasionally.

Iceland
Thanks to the Gulf Stream, Iceland enjoys a maritime sub-Arctic climate, cool and temperate. The winters are mild and windy while the summers are damp and cool with mean temperatures around 11şC. The annual precipitation (in Reykjavik) is around 800 mm, much of which comes down as snow in winter.
The wild terrestrial mammals are Arctic Fox, Mink and Reindeer, the last two having been introduced or escaped. Marine mammal species are more abundant. Two seal species, the Grey and Common (or Harbour) Seal are very common around the island. Fourteen species of whale can be seen in Icelandic waters. Blue, Fin, Sei, Minke and Humpback Whales are regularly seen, and there are regular sightings of Sperm Whales, Killer Whales, and Belugas, as well as White-beaked, Risso's and Atlantic White-sided Dolphins and Harbour Porpoises.
For bird lovers Iceland is a real paradise. About 73 species of birds breed regularly on the islands. Seabirds form an important part of Iceland's bird life with puffins, skuas, and kittiwakes finding great nesting places on the huge sea cliffs.
Trip Report
This trip was made in august/september 2013. Due to the season (breeding season ends juli/augustus) it wasn't a trip to collect loads of new species, but the scenery is fantastic.
Pyramiden - Nordenskiöld Glacier
To reach Pyramiden it takes about 2 hours sailing the very scenic Billefjord. On that way i saw a couple of Humpback Whale's, Svalbard Reindeer and a Ringed Seal.
Pyramiden (named for the pyramid-shaped mountain looming over the valley settlement) is a Russian settlement and coal mining community on the archipelago of Svalbard. Founded by Sweden in 1910 and sold to the Soviet Union in 1927, Pyramiden was closed in 1998 and has since remained largely abandoned with most of its infrastructure and buildings still in place. Inside the houses everything is like it was when it was abandoned, and it is not difficult to imagine the place teeming with activity. At the town square you can find the most northerly statue of Lenin overlooking the Nordenskiöld Glacier.
Nowedays parts of the old buildings are taken over by the Black-legged Kittiwake's, who are making their nests in the window frames.
Before boarding the Plancius i had time to stroll along the shoreline of the Adventfjorden finding Glaucous Gull, Purple Sandpiper, Snow Bunting and close vieuws of a couple Parasitic Jaeger's.
The next moning, when we where at the most northern part of Nordvesthjřrnet there where nine Northern Fin Whale and a group off about 15 White-beaked Dolphins close to the ship.
The firts landing was at Ytre Norskřya, one of the largest whaling station in the 17th century. As many as nine ovens are lined up along the beach and on the shores are the remnants of many graves.
In the afternoon we sailed into Raudfjorden, where we where lucky to see a group of Atlantic Puffins and 3 Polar Bears. Around midnight we reached the island Moffen an important haul-out area for Walrus, and as it was still light we could see two groupes of about 25 Walrusses.

Svalbard - Greenland - Iceland
This list, give's you a nice idea of the things I h've photographed. So explore the list, to see nice picture's of different familie-goups; there are also detailed list available of the different species.
There are also some pictures available of the travelpages.
To reach Greenland we have to cross the Greenland Sea, which is famous for East Greenland Current located off the eastern coast of Greenland along the Greenland continental margin. The current is of major importance because it directly connects the Arctic to the Northern Atlantic, it is a major contributor to sea ice export out of the Arctic.
Along the edge of the ice-field I found several Brünnich's Guillemots, Little Auks and a Bowhead Whale.
Daneborg serves as the headquarters for the SIRIUS Patrol, a special military unit, who guards the Danish sovereignty over the world's largest national park (Northeast Greenland National Park) and its natural resources.
As there aren't regular visitors there, exceptionally we where aloud to land an look around at the compount. The people where very friendly allowing us to look at the dogs and their work-/sleeping-buildings. On the compount I found a Greenland Northern Wheatear and a variety of arctic plants (Papaver radicatum, Eriophorum scheuchzeri, Vaccinium uliginosum and Alpine Mouse-ear)
Kejser Franz Joseph Fjord is a magnificent fjord system with towering mountains on both sides, its inner reaches choked with huge icebergs. The outer coast is sparsely vegetated with a low, creeping flora of willow and birch together with various mosses and lichens.
The vegetation within the fjord system itself is far more fertile, with Heather, Mountain Avens and Yellow Saxifrage. The Greenland's national flower, Niviarsiaq, also known as Broad-leaved Willowherb is found all over the country
In the Scoresby Sund, we encounter huge icebergs, some over 100m high. We did a zodiac tour here around the hudge glacier named Rolige Brć. We did also make a landing near Sydkap to view the remains of the Thule Culture winter houses. As many as 20 people lived in these tiny houses, hunting Greenland Whale and using their vertebrae to build the houses.
Here i cot my change to get foto's of a group Muskoxes, some Arctic Hares and a Arctic Fox.
The municipality of Ittoqqortoormiit - the Greenlandic name which means "the place with the big houses" -is one of the smallest populations (about 500) in Greenland, but still it is the third biggest municipality area in Greenland.
Akureyri is located on the west side of the inland end of the 60 km-fjord Eyjafjörđur. When sailing along the fjord a couple of pots White-beaked Dolphin's came close to the ship. In the surroundings of Akureyri, i finally found a group off 5 Rock Ptarmigan.
At Húsavík I did a Whale Watching tour in the Skjálfandi bay, finding Northern Atlantic Minke Whale and a group of six Humpback Whale's very close to the ship.
Lake Myvatn is known world wide for its exceptionally many breeding duck species (15-16) and the abundance of other avifauna. Here I found Barrow's Goldeneye, Harlequin Duck, Long-tailed Duck, Gyr Falcon and Red-throated Diver.
The lake's surroundings show such variety in landscapes and the pass Námaskarđ holds amazing geological formations with sulphurous mud springs called Solfataras and steam springs called Fumaroles.
Over 24 km long with a width of up to ˝ km and a depth of up to 100 m, the Jokulsargljufur Canyon is one of the largest and most impressive of Iceland's many river canyons. Falling 45 m with a width of 100 m, Dettifoss is reputed to be the most powerful waterfall in Europe. Selfoss is a smaller waterfall a little way upstream with a drop of 10 m. There are easy paths from Dettifoss, which allow a pleasant 1 km walk. Around the falls there where some nice flowers (Lomatogonium rotatum, Grass-of-Parnassus, Mountain Avens and Sea Campion.
Vatnajökull (2110 m) is the largest glacier in Iceland and it's also the largest glacier mass in Europe. It covers an area of roughly 8.200 sq. km and it's about 1.000 m thick at its thickest point. Its average thickness is 400 - 500 m.
Breiđamerkurjökull, an outlet glacier of Vatnajökulland, crumbles down the steep mountainside of the glacier and big icebergs break off into the Jökulsárlón Lagoon where they float around before melting. At the lagoon i had nice looks off the playing Common Seals and Iceland Gull