Greece - Parnassos & Chelmos
This is a trip to the central part of Greece higlands (Parnassos & Chelmos). The main focus will be on Butterflies/Dragonflies, but the opportunities for Birds/Dragonflies/Reptiles and Plants will also be excelent.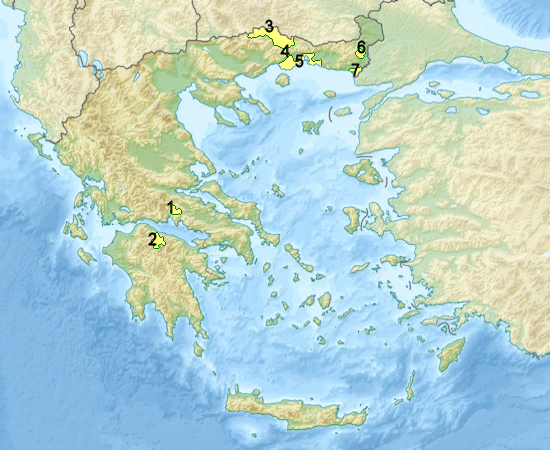 Parnassos National Park
The National Park of Parnassos was founded in 1938. The dominant tree of the forested areas is the Greek fir (Abies cefhalonica).
The area's flora consists of 619 species and 153 sub-species which also include 10 varieties. Most of the species in the plant list fall under the categories of aromatic, medicinal and poisonous species, whilst a lot of them possess valuable healing qualities.
The fauna consists of animals commonly found in the Greek nature such as Fox, Badger, Rabbit, Squirrel and other species of rodents and insectivorous animals.

The richness of the butterflies of this region is legendary amongst entomologists, but it is perhaps not so much the scarce or restricted species which impress the visitor as much as the sheer diversity and abundance of individual butterflies in some areas.
The identification of over 50 species of butterfly in a day is quite feasible, and the sight of hundreds of Balkan Marbled Whites, Black-veined Whites and Clouded Yellows, all crowding together on patches of thistles, is astonishing to those of us more used to a mere scattering of butterflies in cooler northern climes.


Temple of Apollo
With the historic Delphi so close we'll make a morning visit to wander amongst this magnificent archaeological site of international importance. Butterflies will still be on the menu and we may also enjoy some other interesting wildlife, such as reptiles amongst the ruins and birds such as Rock Nuthatch and Black-eared Wheatear.



Itinerary (Trip 2015)
Day 1
Day 2
Day 3
Day 4
Day 5
Day 6
Day 7
Day 8
Athens - Delphi
National Park of Parnassos
Temple of Apollo - Parnassos
Delphi - Gulf of Corinth - Kalavrita
Chelmos mountain
Kalavrita
Gorge of Vouraikos
Levidi - Athens
Gulf of Corinth
The Gulf of Corinth is a deep inlet of the Ionian Sea separating the Peloponnese from western mainland Greece. The Gulf of Corinth is famous for its dolphins. Striped Dolphins are abundant (new estimates indicate numbers in excess of 1,000 animals), and usually stay in the deepest waters of the Gulf. Small groups of Bottlenose Dolphins are often observed nearshore. Other marine fauna includes Tuna, Swordfish, Loggerhead Sea Turtles and a variety of seabirds.


National Park Chelmos
Chelmos is celebrated as one of the best in Greece for butterflies, with over 100 species recorded. Perhaps its most famous butterfly is the rare and endangered Chelmos Blue, confined to the higher altitudes of Mt. Chelmos and just a handful of other places in Europe.
Chelmos is not only adorned by these flying jewels, it is also clothed in a dazzling display of botanical beauty comprising of a very large number of plant species (including numerous endemics). A visit at this time of year can also mean a treat to the senses of the sights and sounds in the forested slopes of birds such as Crossbills, Serins, Bonelli's Warblers, Nightingales, several Woodpecker species and lots more besides!

Rhodopes Mountains
The Rhodopes Mountains are the oldest land in the Balkan Peninsula. The Rhodopes Mountains are about 240 km long and about 100-120 km wide.
The Rhodopes Mountains comprise of many rolling mountain ridges divided by deep river valleys and spacious hollows. The scenery in this mountains is superb – gentle rolling hills, rich green valleys, and magnificent limestone gorges, fascinating caves, Thracian and Roman roads, picturesque ancient villages with centuries old houses, mosques, churches and humpbacked bridges.

Itinerary (Trip 2016)
Day 1
Day 2
Day 3
Day 4
Day 5
Day 6
Day 7
Day 8
Tessaloniki - Paranesti
Fracto Forest
Livaditis region
Paranesti - Volokas
Mount Falakron
Mount Orvilos
Karantere Forest
Volokas - Tessaloniki
Low intensity agriculture means that the Western Rhodopes have retained vast swathes of beautiful grasslands, with a dazzling array of wild flowers, a mixture of familiar species and local specialities.
The bewildering variety of butterflies includes many local or unusual species: Balkan Zephyr Blue, Balkan copper, Powdered Brimstone and Poplar Admiral. These mingle with butterflies found more widely in mainland Europe, such as Spotted, Queen-of-Spain and Glanville Fritillaries, Apollo, Chestnut Heath, Idas Blue and more.

Fracto forest
The virgin forest of Fracto is located ?n the northeastern edge of the prefecture of Drama (Greece) below the highest peak of Central Rhodopi at 1,953m. Since then the area has been under a framework of absolute protection since no human activity apart from scientific research is permitted in the forest. It is described as virgin forest because it followed natural processes in its development and has not been disturbed by humans for at least 500 years. The form of virgin forest differs from that of common forest because in virgin forest various species of broadleaved trees and conifers of different ages and heights co-exist with aged and dried out trees of great height.

Around Volokas
Expansive mountain views present themselves all around the small city of Volokas To the west is the infrequently visited mountain Órvilos, which straddling the border with Bulgaria. Separated by quiet and lush valleys fed by mountain streams, this is an area of tranquil beauty. To the north, at the base of Mount Falakrón, runs the thickly wooded valley and deep gorges of the mighty Néstos River, shimmering in the Mediterranean heat. The ski resort of Falakro is one of the largest and most equipped of the country. The total area covered is 600 squared kilometres. The main facilities are on the plateau of the Holy Spirit at an altitude of 1720 metres. The highest chalet, with a magnificent view, is at an altitude of 2110 metres.