Russian Far East
The birds, cetaceans, wild flowers and dramatic scenery make this territory truly unique and by joining this expedition you will have the opportunity to visit a region few have had the privilege to experience.
This expedition is made by The 'Spirit of Enderby', which measures 72 metres in length, is fully ice- strengthened and can carries just 48 passengers.
These Expeditions are accompanied by some of the most experienced naturalists and guides, who have devoted a lifetime to field research in the areas that we visit. The ship is crewed by a very enthusiastic and most experienced Russian Capitan and crew.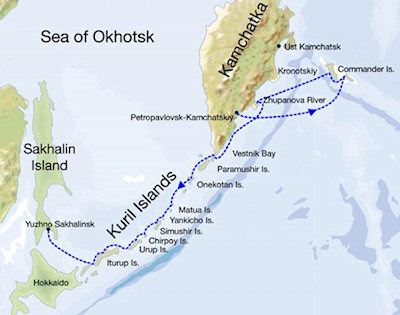 Explore Kamchatka and the Commander Islands, giving us the opportunity to look for an exciting range of land birds. For many, the highlight is the truly stunning Steller's Sea-Eagle which breeds at a number of locations we plan to visit, although there are plenty of other special species including Rock Sandpiper, Mongolian Plover, Pechora Pipit, Japanese Robin, Siberian Rubythroat, Red-flanked Bluetail, Long-tailed Rosefinch and Black-faced Bunting.
Itinerary
Day 1 - 3
Day 4
Day 5
Day 6&7
Day 8
Day 9
Day 10
Day 11
Day 12
Day 13
Day 14
Day 15
Day 16
Day 17&18
Birding Kamtchaka
Boarding Petropavlovsk
At Sea
The Commander Islands
Zhupanova River
Bukhta Russkaya
Paramushir and Atlasova Island
Onekotan and Ekarma Island
Simushir and Yankicha Island
Chirpoy and Urup Island
Iturup Island
Kunashir Island
Disembarkment Korsakov Port
Birding Sakhalin Island

Stretching southwards for over 700 miles from the southern end of the Kamchatka Peninsula to Japan, the Kuril Islands were formed by the collision of the Pacific and Eurasian plates creating a chain of over 30 volcanic islands and an oceanic trench which reaches depths of over 8.000 m.
The combination of deep water upwellings and the mixing of the cold waters from the Sea of Okhotsk with the warmer Pacific Ocean creates ideal conditions for seabirds and the area is one of the richest in the world, both in terms of the number of species which can be seen and their sheer abundance.

For many birders, the undoubted highlight are the Auks and during our voyage it is possible to see up to fourteen species including Tufted and Horned Puffins, Parakeet, Whiskered and Rhinoceros Auklets, as well as Spectacled and Pigeon Guillemots.
Other seabirds we regularly encounter include Laysan Albatross, Mottled Petrel, Fork-tailed Storm-Petrel, Red-faced Cormorant, Red-legged Kittiwake and Aleutian Tern, making this a truly "must do" trip for keen seabirders.
The seas are also extremely rich in cetaceans and on recent expeditions we have seen Blue, Fin, Sperm, Humpback and Grey Whales as well as Orca (Killer Whale), Baird's Beaked-Whale and Dall's Porpoise.

Before starting this expedition we dit a two day birdingtrip around Petropavlovsk-Kamchatskiy and after the expedition we dit a two day birdingtrip around Yuzno-Sakhalinsk.
Trip Report
I did this trip in may/june 2012; Visiting this region gave me the change to see a great variety of Aucks. These alcids are surely the crowning glory of this part of the world .
Petropavlovsk is situated on high hills and surrounded by volcanoes. In fact, the horizon cannot be seen clearly from any point of town as volcanoes and mountains are everywhere. Our birding around this town gave us some interested species; Eyebrowed Thrush, Taiga Flycatcher, Rustic Bunting and Olive-backed Pipit.
At Sea
By mid-day we were aboard the Professor Khromov (called 'Spirit of Enderby' by Heritage Expeditions), a Russian research ship converted for adventure tourism, and getting to know the layout of our floating home. Crussing the Avacha Bay (the huge natural harbour of Petropavlovsk) gives some great vieuws off Spectacled Guillemots, Ancient Murrelets and Parakeet Auklets.
The next day at sea we met the Red-necked and Red (or Grey) Phalaropes, which where resting on the sea on there journey to the most northerly arctic tundras. Here we also saw our first Laysan Albatross, Fork-tailed Storm Petrel and the Glaucous-winged Gull.
The Commander Islands
It was a littly rainy when we reached Bering Island in the Commander islands, named after Commander Vitus Bering who was wrecked here in 1741 on his way back from an exploration of the Alaskan coast. We landed at the rather bleak little settlement of Nikolskoye, complete with bust of Bering and a tiny, well-kept museum with a skeleton off the Steller's Sea Cow. The population of Sea Cows was small (about 1.500) when in 1741 Steller first described them and by 1768, 27 years after it had been discovered by Europeans, Steller's Sea Cow was extinct. We walked inland and came across some Mongolian Plovers, displaying Pechora Pipits and numerous Lapland Longspurs in their smart breeding dress, while on the coast-line there were some very tame but wonderfully Rock Sandpipers.
In the afternoon we had a zodiac cruised at Ariy Kamen, a seabird rock thronged with Pelagic and Red-faced Cormorants, Common and Brünnich's Guillemots, Tufted and Horned Puffins and both Black-legged and Red-legged Kittiwakes. It was interesting to compare the latter two species at close range, noting the way the Red-legs had a very different head and bill structure, and tended to nest or perch nearer to the water-line.
Due to bad wheater conditions (windy and rainy) our planned landing at Mednyy Island - the eastern of the two Commanders - was cancelled, but crussing around the south coast of Bering Island brouught us Humpback Whale, Northern Fin Whale, Sperm Whale and Dall's Porpoises.
Reacing the Kamchatka-mainland again spectacular volcanoes of the surrounding region were in full view, a line of conical peaks marching from horizon to horizon. Kamchatka really is extraordinarily beautiful!
We explored far up the Zhupanova River with the zodiacs, looking in particular for some Steller's Sea Eagles. Birdlife here was diverse and we encountered such interesting species as Far Eastern Curlew, Red-throated Diver and Aleutian Tern. On a small island in the river there were Insular Seals and Largha Seals. As far as the Eagle concerns; we were not to be disappointed, for we found eight different individuals and enjoyed views of enormous adults perched in riverside trees and flapping and soaring overhead. This has to be the world's most impressive raptor!

Russian Far East
This list, give's you a nice idea of the things I h've photographed. So explore the list, to see nice picture's of different familie-goups; there are also detailed list available of the different species.
There are also some pictures available of the travelpages.
At the Bukhta Russkaya (a huge bay) we met our first Kamchatka Brown Bear and when we get ashore at the end of the bay a pure whit Northern Goshawk was seen. After consulting the books, it was clear that this is the subspecies Accipiter gentilis albidus.
The P'titschi Rocks close to the coast of Paramushir holds a large groep of seaotters.
Atlasova, offers some spectacular views of the snow-covered Alaid volcano, which rises to 2.291 metres above sealevel. On the dramatically-eroded ash beaches we met Ruddy Turnstone's and Pacific Golden Plovers. The bushes here provided a home to nesting Grey-streaked Flycatcher's and Siberian Rubythroats. The small pools on this island held Eurasian Wigeons, a Long-toed Stint and some Siberian Buff-bellied Pipits.
Onekotan
We went ashore here at Nemo Bay. Birds included a huge immature Steller's Sea Eagles, Common Raven, Asian Rosy Finch and a couple of Pine Grosbeaks; while a Red Fox was sitting on a steep slope.
Later in the day we enjoyed another zodiac cruise below the bird-thronged cliffs at Ekarma Island. Here huge numbers of Northern Fulmars were nesting.
At Simushir our landing was at the old Russian submarine base at Bukhta Broutona, a flooded caldera with a narrow entrance at the northern end of the island. We landed by the ruined piers and explored the ruined buildings and the deciduous and pine scrub that clothed the interior of the island. Here, we came across a number of Spotted Nutcrackers, Grey Bunting and some Brown-headed Thrushes.
Yankicha Island is a small but rugged island where there was not even a single bush. We passed through huge rafts as we cruised slowly towards the entrance to the flooded caldera in the heart of Yankicha. We had to wait some time for the auklets to start visiting their colony, and at first the slopes were deserted so we made a stop at some active fumaroles to admire the sulphur-encrusted blowholes and the bubbling, near-boiling pools of water.
Suddenly the first flocks of auklets were streaming into the caldera and soon the air was full of smoke-like plumes of these little birds. The noise was simply indescribable, a mixture of the guttural chuckling of the Cresteds and the manic cackling of the Whiskereds. We estimated up to 450.000 Crested Auklets joined by about 150.000 thousands Whiskered Auklets. From time to time a Slaty-backed Gull or a patrolling Peregrine Falcon or Arctic Fox caused a panic amongst the auklets and a mighty roar arose as many thousand took to the air at once.
Before we stepped down into the zodiacs a Short-tailed Albatross was seen. This is one off the rarest albatrosses, wich was though to be extinct in 1949, but fortunatley there are about 1.600 individuals nowerday's. Surrely this is one off the highlights of this trip.
Our landing on Urup was most enjoyable, with some butterflies feeding on the wildflowers. It took a lot off time, but at last we mannaged to see the Middendorff's Grasshopper-Warbler.
Iturup is of the few inhabited islands in the Kurils. We went ashore at the township of Reydovo, on Olya Bay and before exploring the forested volcanic uplands of the interior. The first birds (Chestnut-cheeked Starling and Eurasian Wryneck) where seen here.
For the birders the hot spring pools, heated by volcanic activity where not the main attraction, so they went down the road to encounter Japanese Robin, Red-flanked Bluetail and Kamchatka Leaf Warbler.
In the afternoon the ship made a tour into a large caldera at the southern tip of the island. When the first Ussuri Brown Bear was spotted on the beach, everyone came to the deck and together we mannaged to see even 6 bears. This also was the spot to encounter they Japanese Cormorant and the Rhinoceros Auklet.
At the sea around Kunashir, we found about 5.000 Short-tailed Shearwaters. This also was the spot where we have seen our last Killer Whale group. (In total these Killer Whales made up a total of 127)
Though the region has a bad reputation for having foggy/rainy wheater, we had quite good wheater on our trip. But arriving at Korsakov Port it was getting rainy and foggy. Still i manage to get some nice pictures of Black-tailed Gull, Stejneger's Stonechat, Black-browed Reed-Warbler and Green-headed Wagtail.
Yuzhno-Sakhalinsk
Close to our hotel there is the Gagarin Park, where some Sakhalin Grasshopper Warblers made a lot off noise, but as they are very skulking birds, it took me a lot off time to get a picture of it. Other birds here were Russet Sparrow, Narcissus Flycatcher and Asian Brown Flycatcher.
A day trip to Starodubskoye, at the east-side of Sakhalin gave us the wanted Latham's Snipe, Large-billed Crow and Oriental Cuckoo