Spain - Sierra Nevada & Alpujarras
This is a trip to the Sierra Nevada & Alpujarras. The main focus will be on Butterflies/Dragonflies, but the opportunities for Birds will also be excelent.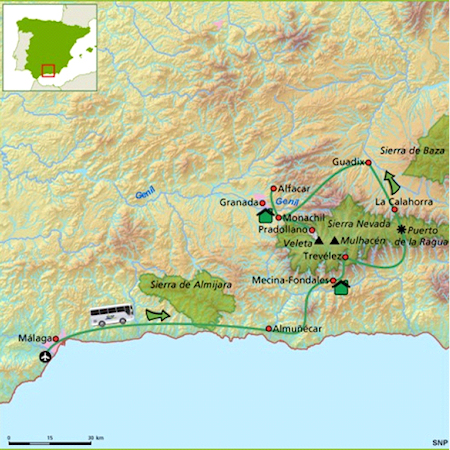 Sierra de Almijara
The Sierra de Almijara contains an impressive variety of plant species, many rare and/or endemic. One of the reasons for this is its differences in altitude (ranging from around 100 m to over 2.000m), climate variation and its southeast-northwest orientation. The sierra is rich in aromatic plants, like oregano, rosemary, lemon thyme, lavender, savory and sage.
The sierra is well known for its population of mountain goats, an endemic species that was under threat of extinction a century ago. In the last 25 years, its numbers have increased tenfold in the region and, with around 2.000 mountain goats, it is now home to one of the biggest populations of its type in Spain.

Las Alpujarras
The region of mountain villages known as Las Alpujarras clings to the southern flanks of the Sierra Nevada, cloven by deep, sheltered valleys and gorges which run down towards the Mediterranean.
The Alpujarra, as it is popularly known, in the singular, is famous throughout Spain because of its unique mini-ecology. Its terraced farmlands are constantly watered by the melting snow from above, constituting a high-altitude oasis of greenery which stands in dramatic contrast to the arid foothills below.

Sierra Nevada National Park
The Sierra Nevada is a dramatic, rugged and extensive mountain range, the highest in Europe after the Alps and the most significant section of the Cordillera Penibética.The protected area encompasses 86.208 ha of torrential rivers, sheer-sided gorges, stony scree slopes, glacial lakes between snowy summits and, in the foothills of the Alpujarras, cultivated terraces of almond trees and vegetables.
Itinerary
Day 1
Day 2
Day 3
Day 4
Day 5
Day 6
Day 7
Day 8
Malaga - Motril - Mecina Fondales
Alpujarras (Poqueira valley)
Sierra Nevada (Trevélez)
Mecina - Puerto de la Ragua - Monachil
Sierra Nevada (Pico del Veleta)
Sierra de la Alfaguara
Sierra Nevada (Genil valley)
Monachil - Malaga
The park's plants are outstanding, with the highest number of endemic plant species in Europe. An impressive 2.100 different species of vascular plant, a quarter of those recorded in the whole of Spain, have been registered here, over 120 of them endangered. Around 70 plant species are only found in the Sierra Nevada, mainly in the higher areas, while 175 species are native to the Iberian Peninsula.
The park's main draw for fauna is its rich birdlife, with over 60 species inhabiting the Sierra. Nesting birds of prey include Golden Eagles, Bonelli's Eagles, Peregrine Falcon and Griffon Vulture. On the higher slopes are Alpine Accentors, Black Redstarts, Northern Wheateaters, Rock Buntings and Red-billed Choughs. In the woodland areas are Hoopoes, Short-toed Treecreepers, Green Woodpeckers and Golden Orioles.
The Sierra Nevada has 78 endemic vertebrate species, most of which are butterflies and beetles. The park is renowned for its outstanding variety of butterflies with 120 species recorded here.

Sierra de la Alfaguara
This open space is noted for its botanical importance and the Mediterranean type fauna. The fauna of the area also includes Reptiles, Little Owls, Warblers and Partridges, amongst other species.
The botanical importance of Sierra de la Alfaguara cannot be disputed, since besides the presence of Oaks, Maples and Gall-oaks, numerous local and North African endemisms can be encountered.
Trip Report
This trip was made 5 july - 12 july 2014
Close to the airport in Malaga lies the Desembocadura del Guadalhorce, a wetland erea, which is one of the most important stopover places for coastal migratory birds in Andalusia. The visit there gives me some nice birds (White-headed Duck, Greater Flamingo, Little Ringed Plover, Little Bittern and Spotless Starling), an Mediterranean Skipper, a Long Skimmer and a Spanish Pond Turtle. In the central park of Motril we found some african butterfly species (African Grass Blue, Monarch)
We spent a hole day walking along a river in the Poqueira valley close to Capileira. In this valley we found some nice birds (Alpine Swift, Eurasian Crag Martin and Rock Sparrow), flowers (Robust Marsh Orchid, Bladder Campion, Stinking Hellebore, Rampion Bellflower and Mediterranean Spurge) and a lizzard (Large Psammodromus). Butterfly species are: Spanish Gatekeeper, Iberian Marbled White, Southern Brown Argus, Marsh Fritillary, Provencal Fritillary and a Southern Grizzled Skipper. In the evening we set up a Light Trap, to attrac nocturnal moths with ultraviolet light in the garden of our hotel at Mecina-Fondales and found Lesser Treble-bar, Ruby Tiger, Small Grass Emerald, Leopard Moth and Pale Prominent)

Spain
This list, give's you a nice idea of the things I h've photographed. So explore the list, to see nice picture's of different familie-goups; there are also detailed list available of the different species.
There are also some pictures available of the travelpages.
This trip is made possible by

The next day we explored the upstream part of the Rio Trevélez. Interesting birds where (White-throated Dipper, European Serin, Booted Eagle) and i found some nice net-winged insects (Libelloides hispanicus, Libelloides longicornis, Nemoptera bipennis). The mention worthy butterflies are; Rosy Grizzled Skipper, Southern Marbled Skipper, Meadow Fritillary, False Ilex Hairstreak, Geranium Bronze and Lang's Short-tailed Blue.
Puerto de la Ragua is a mountain pass of the Sierra Nevada at 2.041m above sea level. Here you can find the endemic Eumigus rubioi (a wingless grasshopper), reptiles (Spanish Psammodromus, Iberian Wall Lizard, Smooth Snake), birds (Blue Rock-Thrush, Griffon Vulture), plants (Lusitanian Pink, White Anacyclus, Marsh Gentian) and butterlies (Dusky Heath, Apollo, Rock Grayling). In the evening the Light Trap brought again some nice species (Oak Yellow Underwing, Passenger, Heart Moth and Spanish Least Carpet).
Pico del Veleta (3.394 m) is the third highest peak of the Iberian peninsula and the second highest in the Sierra Nevada. On top around the Sierra Nevada Ski Station we found some find high-altitude species, such as: butterflies (Spanish Brassy Ringlet, Spanish Argus, Polyommatus golgus, Mother-of-pearl Blue), plants (Leontodon boryi, Spanish Sandwort, Cheilanthus Leaved Heron's Bill), mammals (Southeastern Spanish Ibex) and antropods (Unarmed Saddle Bush-cricket).
we started our visit to Sierra de la Alfaguara at the visitor centre near Puerto Lobo where we found the Iberian Magpie and an Ocellated Lizard. Walking along the treks i found some nice flowers (Blue Cupidone, Willow Leaf Foxglove, Prickly Juniper) and butterflies (Spanish Chalk-hill Blue, Black Satyr, Southern Brown Argus, Polyommatus celina).
We started our visit to the Genil Valley at the Embalse de Canales, a reservoir only a few miles east of Grenada. Here i found a Viperine Snake and some dragonflies. (Blue Emperor, Golden-ringed Dragonfly, Violet-marked Darter, Copper Demoiselle). More upstream the genil river we found plants (Spanish Snapdragon, Spanish Lemon Thyme, Thick-leaf Stonecrop, Terebinth) and a Praying Mantis.