Gambia
Gambia is a small country with an area of not more than 11,000 km² and is, apart from a narrow coastal strip, completely surrounded by Senegal. The Gambia River intersects the country in half and flows into the sea in the capital Banjul. The country measuring 330 km from East to west but is only 25-30 km wide and is entirely under the 100 m above sea level.
Gambia is for birders from Europe the closest tropical destination and a great place to get an impression of the African bird life. It is not only African birds that attract attention here. The location just below the Sahara desert makes that many European species stay here during winter. (Herons, Waders, Raptors and Songbirds)
In addition, the Gambia is an extremely friendly locals know and also a politically stable country with a good tourist-infrastructure. And last but not least, the birds there are massively present and are good to approach! Not less than 660 species have been seen.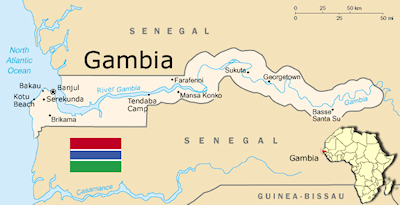 The trip begins with a flight to Banjul and a transfer to our hotel in Kotu. From there we make trips to the many interesting bird areas in the surroundings. In the direct surroundings of the hotel can already see some typical West African species such as the beautiful Blue-bellied Roller but also White and Snowy-crowned Robin-Chat.

Abuko Nature Reserve is a tiny, easy to reach, and well managed park, with an amazing diversity of vegetation and animals. More than 250 bird species have been recorded in its environs, making it one of the region's best bird-watching haunts. Abuko is about the only place in Gambia where you can observe Green and Violet Turacos, Ahanta Francolins and Western Bluebills

Itinerary
Day 1
Day 2
Day 3
Day 4
Day 5
Day 6
Day 7
Day 8
Day 9
Day 10
Day 11
Day 12
Day 13
Day 14
Day 15
Kotu
Kotu Stream - Fajara Golfcourse
Brufut Woods - Tanji Beach
Lamin Ricefields - Abuko NR
Tujereng Woods
Farasuto Forest
En route: Kotu - Tendabe
En Route Tendabe - Georgetown
Georgetown
En route: Georgetown-Tendabe
Tendabe
En route: Tendabe-Kotu
Sotokoi Woods
Kartong Bird Observatory
Banjul
The coastal areas around Tanji can deliver us a variety of Waders, Grey-headed Gulls and Royal Terns.


Brufut is a beautiful piece of woodland under observation by a local birdwatching association in collaboration with the local villagers. This amazing site offers a wide variety of woodland species.

One of the highlights will be a 6-day visit to the deep interior of the country. We visit Tendaba Camp and Georgetown and go here looking for some specialties. Georgetown is situated on an island amidst the River Gambia and this small settlement certainly feels far from anywhere. During our stay in this area we shall explore both dry bush country and some small wetland areas that are characteristic habitats of eastern Gambia. The pleasantly eccentric Tendaba Camp is situated on the south bank of the River Gambia, still nearly two kilometres wide at this point. We make chances of huge Abyssinian Ground Hornbill, Bronze-winged Courser, but also on Swallow-tailed and Northern Carmine Bee-eater and bird as the beautiful White-crested Helmet-Shrike, Brown-rumped Bunting, Western Bonelli's Warbler and Melodious Warbler.

Back at our accommodation on the coast, we still have a few days to relax and enjoy the surroundings. We also visit some interesting areas still to see any missed bird species.
Trip Report
I did this trip in november/december 2012. Although I had visited the African-reagion several times, traveling with a real birdig-group, gave me the hope to find about 100 new species during this trip.
The first 6 days we stayed in the Palm Beach Hotel: situated near the Atlantic Ocean and on the banks of the Kotu-kreek. It's a nice hotel with quite a lot off British-woman looking for a Gambian man. (besides birding, The Gambia is also known for its attractive man). The surroundings of the hotel brought us our first birds (Yellow-billed Kite, Hooded Vulture, Common Gonolek, Green Wood Hoopoe) en from the terrace of the hotel (facing the ocean) we saw Northern Gannet, Grey-hooded Gull, Caspian Tern and Pomarine Jaeger.
The Kotu area is very fertile thanks to the presence of the Kotu Stream and consequently harbours an astonishingly wide range of bird species. The Lower Bridge spanning the Creek is a good place to start. From here there are good views of the open water and vegetation of the Creek, and it is here that most of the Gambian bird "experts" will be found. Notable species we saw here are: Western Red-billed Hornbill, Oriole Warbler, Little Bee-eater, Wire-tailed Swallow and Yellow-fronted Tinkerbird. Other animals i found here are dragonflies (Julia´s Skimmer, Portia Widow, Black Percher, Broad Scarlet), a couple of Nile Monitor's and thousands of the West-African Fiddler-crab.
Apart from golf, the Fajara Golf course is also renowned as a very goor birding spot. There is a range of habitats from open areas to coastal scrub and a few tangled patches of woodland. The course also lies alongside part of Kotu Stream and here I found African Pied Hornbill, Blue-bellied Roller, Swallow-tailed Bee-eater and Pearl-spotted Owlet
Brufurt Woods
Over the years the area's woodland has permanently decreased is size due to deforestation, but thanks to the enduring local initative, the remaining area has been fenced in. Right by the reserve entrance the branches of a large tree have been hung with a number of drinking troughs for the birds and several small species were busy taking the opportunity of a drink and a bath. These included Blue-spotted Wood Dove, Orange-cheeked Waxbill, Vitelline Masked-Weavers, African Pygmy Kingfisher and a Yellow-Throated Leaflove. Furtheron in the forest we saw the wanted Long-tailed Nightjar and Verreaux's Eagle-Owl. The area is also good for butterflies; Common Leopard, Small Orange Acraea, African Caper White and River Sailor.
This day gave me some off my most wanted specie's (Nightjar/Eagle-Owl) of this trip
Nearby, the littel town of Tanji, we found a sandy beach, with the ocean one side and a lagoon the other. A sandbar nearby holds a great number of birds on it. (Sandwich Tern, Royal Tern, Kelp Gull, Slender-billed Gull)
The gardens of the Senegambia Hotel gave us Blackcap Babbler, White-crowned Robin-Chat, Lesser Honeyguide and Bearded Barbet.
Lamin Ricefields - A wetland area, farmed by the local women and especially good for water birds in the watermelon season (November-January) as well as a few overhead raptors. Here we saw our first mammals (Gambian Sun Squirrel and Green Monkey), Black Heron, Northern Crombec, Northern Black Flycatcher and I made some verry good pictures of the African Harrier-Hawk.
Gambia
This list, give's you a nice idea of the things I h've photographed. So explore the list, to see nice picture's of different familie-goups; there are also detailed list available of the different species.
There are also some pictures available of the travelpages.
This trip was made possible by

Abuko Nature Reserve contains one of the few remaining intact examples of Gallery Forest in The Gambia. It similar in structure to rain forest. The main difference being that it relies on surface water as its primary source of moisture, while rain forest depends on precipation. Gallery Forest is characterised by evergreen forest with a closed canopy and fairly open understorey. The canopy can grow to an excess of 30 metres in height. The finest birds we saw are: Brown-throated Wattle-eye, Violet Turaco, Grey-headed Bristlebill, Little Greenbul and Black-headed Paradise Flycatcher. Beside the birds I saw a group off Western Red Colobus.
Tujereng 'Woods' actually a grove of trees in farmland, proving a good site for Vieillot's Barbet, Yellow Penduline-Tit, Striped Kingfisher, White-fronted Black-Chat, Scarlet-chested Sunbird and Black-crowned Tchagra
Farasuto Forest is a relict patch of what might best be described as 'wet evergreen forest' though the place is only really wet during the rains – broadly from June to October. The significance of Farasuto forest is fully understood by the people of Kuloro, the village within which the site lies. With the help off a Management Plan hopefully a secure future for the site and its wildlife is to come. Birds here where: Levaillant's Cuckoo, Western Olivaceous Warbler, Orange-breasted Bushshrike and on the banks of the river the first West African Crocodile was spotted.
En route: Kotu - Tendabe
Our first stop was in the vicinity of Bulock; where we found African Green Pigeon, Black Scimitarbill and some Stone Partridges. At our lunch-stop near Kalagi finally the great raptors appeared: White-backed Vulture, Martial Eagle, Wahlberg's Eagle and the wonderful Bateleur. This list was extended at our last stop (just before Tendabe) with an Western Marsh Harrier and African Hobby. Here i also managed to get an picture of four Common Warthog's.
En Route Tendabe - Georgetown
At the Gambia-river crossing a large group of Red-billed Quelea's was spotted and finaly I get an opportunity to get a nice foto of the Long-tailed Glossy-Starling. Along the roadside we stopped at a smal pond, where Namaqua Dove, Cut-throat, Chestnut-backed Sparrow-Lark and Cinnamon-breasted Bunting were founded. The lunch-stop at Kaur proved to be another great spot, with Egyptian Plover, Spur-winged Lapwing, Dark Chanting Goshawk and Collared Pratincole. At the last stop this day, just North off Georgetown a large group of Red-throated Bee-eater's where discovered along with some Mottled Spinetail's and a pair of Northern Anteater-Chat's.
Georgetown
Baobolong Camp (where we stayed for the night) proved to be a fine spot for Reptiles and Amphibians (Square-marked Toad/West African Reed Frog/Common Agama), Moths (Common Striped Hawk/Crimson Speckled) and the surrounding area was good for Mammals (Gambian Epauletted Fruit Bat) and Birds (Fine-spotted Woodpecker, Northern Puffback, Bruce's Green Pigeon and Spur-winged Goose) It was also verry rewarding for my Butterfly-list (Lang's Short-tailed Blue/African Grass Blue/African Migrant/Guineafowl/Scarlet Tip)
In the morning we visited some area north of Georgetown, giving Square-tailed Drongo, Northern Carmine Bee-eater, White-rumped Seedeater, Rüppell's Griffon Vulture and Brown Snake Eagle. In the afternoon we did a boot-trip om the Gambia river, where beside's an African Fish Eagle, loads of Black-crowned Night Heron's and a Grey-headed Bushshrike, I also mannaged to get good foto's of the African Finfoot.
surely one off the best day's on this trip
En route: Georgetown-Tendabe; Jakhally (south of Georgetown) where we made our first stop, is a place with vast rice fields and wetlands. Here we met Rufous-winged Cisticola, Woodchat Shrike, Black Crake, Woodland Kingfisher and Black-faced Quail-Finch. Soma was the place to find Black-headed Lapwing and the Striped Policeman.
Tendabe - Baobolong Wetlands Reserve
Easily explored on a boat trip from Tendabe, the Reserve is a vast area of belongs (creeks) lined by thick mangroves that seems to float on the water. Making two trips to this area i got foto's off Mouse-brown Sunbird, Woolly-necked Stork, Grey-headed Kingfisher, Pink-backed Pelican, White-backed Night Heron, African Darter and Goliath Heron. The camp itself was a nice place to find butterflies (Little Comodore, Diomus Grizzled Skipper, Dark Grass Blue, Small Grass Yellow) and a Senegal Chameleon.
This vissit proved, that - when gomming to Gambia - you have to go inland
En route: Tendabe - Kotu
The first visit was the Kiang West National Reserve, one of the largest protected areas in Gambia and also the wildest; it boast over 300 bird species, but the're not easily to see, so you need an experienced guide, otherwise you wil get lost among dirth paths and mangroves. With the help of our guide we found some nice species; Red-Winged Warbler, Beaudouin's Snake Eagle, Spotted Thick-knee, Chestnut-backed Sparrow-Lark. A lunch stop near Gebangarr, proved that a visit to the inland of Gambia is the place to find raptors, with new species as Booted Eagle, Grasshopper Buzzard and African Hawk-Eagle.
Sotokoi Woods
a combined area of woodland and floodland-plains from the Gambia-river was filling up some unexpected species; Red-shouldered Cuckoo-shrike, Greater Honeyguide, Yellow-Crowned Bishop, Black-rumped Waxbill, Western Violet-backed Sunbird.
Kartong Bird Observatory
The observatory is located overlooking a former sand mine. Since mining stopped these areas have filled with water during each rainy season and created one of the best birding sites along the coast of The Gambia. This was the place to find African Pygmy Goose, White-faced Whistling Duck, Purple Swamphen, Lanner Falcon and the Four-banded Sandgrouse.
Banjul
Last day in the Gambia and indeed traveling with a birding-group gives me more then 100 new species; it's a hard days-work (particularly when you wanted to get pictures of what you have seen) but it was worth it.
Take a look at the foto's when you're interested.