Atlantic Odyssey
From the frozen wastes of Antarctica to hot, steamy, tropical seas, this extraordinary journey of almost 10,000 kilometres (6,000 miles) from Ushuaia in Tierra del Fuego to the Cape Verde Islands by way of the Antarctic Peninsula, the Weddell Sea, the South Orkneys, South Georgia, Gough Island, Tristan da Cunha, St. Helena and Ascension offers the adventurous traveller the chance to visit some of the farthest flung places on earth and to experience a seabird extravaganza beyond most birdwatchers' wildest dreams.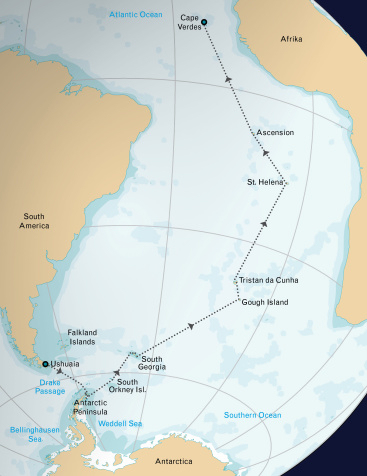 Itinerary
Day 1
Day 2&3
Day 4&5
Day 6
Day 7
Day 8
Day 9 - 11
Day 12 - 16
Day 17
Day 18 - 20
Day 21 - 24
Day 25 - 27
Day 28&29
Day 30&31
Day 32 - 36
Day 37&38
Day 39
Boarding Ushuaia (About 16:00)
Drake Passage
Antarctic Peninsula
At Sea
South Orkneys
At Sea
South Georgia
At Sea
Gough Island
Tristan da Cunha
At Sea
St Helena
At Sea
Ascension Island
At Sea
Cape Verdes
Disembarkment Praia (About 09:00)
This superb opportunity is made possible by the need to bring cruise ships back from Antarctica to Europe in spring for the start of the Arctic cruising season.
Our remarkable journey on board one of these vessels will not only provide splendid opportunities for observing a bewildering array of seabirds, from penguins and albatrosses to frigatebirds and tropicbirds, at sea, but will also give us a chance to wander through their breeding colonies, as we step ashore on some of the remotest islands in the world.
Opportunities for whale-watching will also be superb, especially in Antarctic waters and the Southern Ocean, where we are likely to enjoy some spectacular views of these leviathans sounding right next to our ship.

The ship carries a small complement of expedition staff who, as well as guiding zodiac cruises and excursions ashore, double up as guest lecturers and give informal talks on the environment, wildlife and history of the areas visited.
The bridge is normally open to all (except when the ship is docking) and the big 'picture' windows provide a great viewpoint whenever it is too breezy to stand comfortably at the bow.
Landings are carried out by means of a fleet of Zodiacs, which allow safe landings on remote coastlines in all types of conditions and there will be plenty of time ashore, a key factor when considering any cruise of this type.


Please note that we will try and approach for landings, however due to the weather conditions this is not always possible.
Since we began our Atlantic Odyssey's (1998) we failed during 30% of the voyages to make landings in the Tristan da Cunha archipelago, due to adverse weather.
Trip Report
I did make this trip in march/april 2011 and indeed, it is a spectacular journey around some of the most remote spots on earth.
As a preliminary we did a two-day birding-trip around Ushuaia, visiting Tierra del Fuego National Park (Andean Condor, Thorn-tailed Rayadito) and did a tour on the Beagle Channel to the Yécapasela Reserve (Magellanic Penguin, Chilean Skua).
We had a pleasant, calm crossing of the Drake Passage, seeing our first albatrosses and petrels. Surprisingly we also met two king penguins, floating in the middle of the passage.
Unfortunately we met a fierce storm on the 3rd day of our journey (wind was about 11 Baufort and the temperature drops till –12 degrees and it was snowing heavily) The storm lastet for 3 days and instead of walking on the Antarctic Peninsula/South Orkneys, we had to stay on the ship sailing around in the Bransfield Strait where there was some shelter from the Antarctic mountains. (So the warnings that the company gives "does have a meaning".
On our way to South Georgia we met our first dolphins and the storm finally stopped.
We were reluctant to make our first landing at South Georgia (Cooper Bay), where we met the pinguins/elephant- and fur seals. The second day we visited the abandoned whaling stations at Stromness and Grytviken. As the winds where getting stronger at night the landings at Salisbury Plain and Prion Island where abandoned.
Gough Island is a strict nature reserve and people are forbidden to land, but conditions were calm enough for us to approach within a few feet of the shore, and we spent a wonderful three hours cruising back and forth with the zodiacs along the sheltered east coast. Hundreds of Subantarctic Fur Seals dotted the shoreline and large colonies of fancy Northern Rockhopper Penguins extended up through the tussock grass on the steep slopes. As we approached close to the shore, we soon spotted a Gough Moorhen moving about in the tussock grass and our first Gough Buntings flying about over the cliffs.
Atlantic Odessey
The list give's a nice idea of the things I h've photo- graphed.
So explore the list, to see nice picture's of different familie-goups; there are also detailed list available of the different species.
There are also some pictures available of the scenery.
When you want to know more about these islands, you have to visit my travelpages.
Fortunately, there was relatively little wind the next day and in the afternoon we set our first steps on Tristan da Cuhna - unquestionably the remotest inhabited island in the world. For the serious birders, there was only one option – a quick dash up to the nearest woodland to look for the island's only endemic land-bird, the Tristan Thrush, just in case we were unable to land on Inaccessible or Nightingale. This worked well: a thrush was soon found and we then had plenty of time to wander around the small town and call in at the post office and small gift shops to buy stamps and souvenirs.
Our good fortune with the weather continued and the next day we were stepping shore on Salt Beach on the north-east side of Inaccessible Island. Tristan Thrushes were everywhere and ridiculously tame, and it did not take us long to find some very tame Tristan Buntings. Our main quarry, however, was the Inaccessible Island Rail – the world's smallest flightless bird. Initially we focussed on the large area of tussock grass behind the landing beach, but this was full of Subantarctic Fur Seals, the ground beneath the tussocks was completely bare, and it was hard to imagine that there could be any rails there. But after about an hour we found one.
We were very concerned about Nightingale, as only a month earlier, a cargo ship on its way from Brazil to Singapore had crashed into the island and sunk, releasing 1,400 tonnes of crude oil into the sea around the island. We had already seen large globules of oil on the beach at Inaccessible, but here on Nightingale, all the rocks along the shoreline were covered in a thick layer of oil. Large numbers of Northern Rockhopper Penguins had been affected by the oil spill, and about 3.700 had been rescued by the islanders and taken into care on Tristan.
It took us another four full days to cover the 1,330 nautical miles to St Helena. After arrival we then immediate went to Deadwood Plain to see the endemic St Helena Plover (or Wirebird). The St Helena Plovers were easily found, and we enjoyed great views of eight of these critically endangered birds, including a pair with two small chicks.
The next day we were picked up by one of the island boats, the Gannet, and taken for a trip along the coast to look for dolphins and breeding sea-birds. We had not gone far before we found a school of at least 250 Pantropical Spotted Dolphins which stayed with us for about half an hour. Continuing on, we finally reached Speery Island, a tall stack off the southern tip of St Helena where there were large numbers of breeding Masked Boobies, White Terns, Brown Noddies and Black Noddies.
Upon arrivel at Ascension we boarded the zodiacs for a cruise around Boatswain Bird Island, a small island surrounded by steep cliffs near the eastern tip of Ascension. There are huge numbers of sea-birds breeding on this island, including the entire population of Ascension Frigatebirds. The relatively flat summit of the island was covered in nesting Masked Boobies, while the cliff ledges supported thousands of nesting Black Noddies, White Terns, Brown Boobies, several pairs of Red-footed Boobies and Whitetailed Tropicbirds.
On the Cape Verdes the last island-tour gives us the wanted Cape Verde Warblers and Iago Sparrows.