South Africa - Namibië - Botswana - Zimbabwe
This is a trip to four off Southern Africa's countries. It will be a diverse journey; forest, river canyons, sea coast, desert, river delta's and waterfals.
Beside the cultural aspects, there will be a great opportunity for birds, mammals, butterflies and other species.

Table Mountain National Park
Table Mountain National Park is a unique and urban reserve stretching from Signal Hill in the city off Cape Town to dramatic Cape Point, encompassing magnificent valleys, bays and beaches, the glorious Table Mountain and the legendary Cape of Good Hope
A variety of antelope species can be spotted including Klipsringer, Eland and Bontebok as well as other mammals such as Cape Mountain Zebra, Chacma Baboon and Cape Clawless Otter. There are number of endemic bird species like the Cape Sugarbird to watch out for but some of the park's most famous residents are the Jackass Penguins at Boulder's Beach.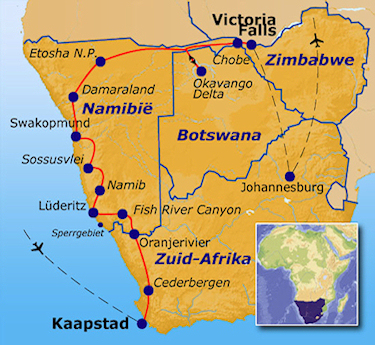 Cederberg
Most of the Cederberg is a designated Wilderness Area (83.000ha) and is part of the Cape Floral Kingdom which is a World Heritage Site. The Cederberg Wilderness is surrounded by conservancies - land owned by farmers but conserved in its natural state - such as the Cederberg conservancy, the Pakhuis conservancy and Nardouwsberg conservancy, so that the whole Cederberg wilderness area is closer to 170.000ha. Thus the Cederberg mountains remain one of the most undisturbed areas in South Africa.

Fish River Canyon
The Fish River canyon, situated along the lower reaches of the Fish River, is one of the most impressive natural beauties in the southern part of Namibia. With a depth of up to 550 metres, the Fish River Canyon is the second largest canyon in the world.

Namib-Naukluft National Park
If your picture of the desert includes enormous Lawrence-of-Arabia dunes, vast gravel plains, towering mountain ranges and deep sculptured canyons, then your image is of the Namib-Naukluft National Park. Covering almost 50,000km², it is one of the largest conservation areas in Africa and protecting one of the oldest deserts on earth.
The Naukluft has many animals, including large mammals, though all are elusive and difficult to spot. Steenbok and the odd sunbathing Dassie are equally common, and Springbok, Warthog and Ostrich occur, but are more often found on the plains around the mountains.

Etosha National Park
Translated as the 'Place of Mirages', 'Land of Dry Water' or the 'Great White Place', Etosha is an apparently endless pan of silvery-white sand, upon which dust-devils play and mirages blur the horizon. One of Africa's best game reserves, Etosha National Park protects a vast shallow bowl of silvery sand the size of Holland – and its surrounding bush. It excels during the dry season when huge herds of animals can be seen amidst some of the most startling and photogenic safari scenery in Africa.
The more common herbivores include Elephant, Giraffe, Eland, Blue Wildebeest, Kudu, Impala, Steenbok and Zebra. The most numerous of these are the springbok which can often be seen in herds numbering thousands, spread out over the most barren of plains. All of the larger felines are found in Etosha, with good numbers of Lion, Leopard, Cheetah and Caracal.
Amongst the birds of prey, Bateleur, Martial-, Tawny- and Wahlberg's Eagles are fairly common, as are Black-breasted and Brown Snake Eagles. The list of Harriers, Falcons and Kestrels occurring here is even longer, and worthy of a special mention are the very common Rock Kestrels, and the unusual Red-necked and particularly cute Pygmy Falcons, which are less readily seen.

Itinerary
Day 1
Day 2&3
Day 4&5
Day 6
Day 7
Day 8&9
Day 10
Day 11&12
Day 13&14
Day 15
Day 16
Day 17&18
Day 19
Day 20&21
Day 22
Day 23&24
Day 25 - 27
Day 28
Amsterdam - Cape Town
Cape Town
Cederbergen
Oranjerivier
Fish River Canyon
Lüderitz (Sperrgebiet)
Namib desert
Sossusvlei
Swakopmund
Skeleton Coast - Damaraland
Damaraland
Etosha Nationaal Park
Caprivi Strip
Okavango Delta
Caprivi Strip
Chobe National Park
Victoria Falls & Zambezi N.P.
Johannesburg - Amsterdam
The number of large birds stalking around the plains can strike visitors as unusual: invariably during the day you will see groups of Ostriches or pairs of Secretary Birds. Equally, it is easy to drive within metres of many Kori Bustards and Black Korhaans, which will just sit by the roadside and watch the vehicles pass.

Caprivi Strip
Caprivi Strip, is a long, narrow extension of Namibia, running about 450 km from the northeast corner of the main block of the country eastward to the Zambezi River.
The German motivation was to acquire a strip of land linking German South-West Africa with the Zambezi River, thus providing easy access to Tanganyika (Tanzania) and ultimately the Indian Ocean. The German negotiators should have checked a map. In fact, the Zambezi River is difficult to navigate along the Caprivi Strip due to rapids. Then, 65 km east of Caprivi, it becomes extremely non-navigable due to a 108 meters drop: Victoria Falls, by some reckonings the world's largest waterfall. Oops. No one's getting to the Indian Ocean that way.

Chobe National Park
Driving the loops that hug the river's edge, you may see up to 15 different species of animals on any one game drive, including Waterbuck, Lechwe, Puku, Giraffe, Roan- and Sable Antilope, Impala, Bushbuck, Monkeys and Baboons, along with the accompanying predators Lion, Leopard, Hyena and Jackal.
Over 460 bird species have been recorded in the park, making it one of Africa's premier venues for Bird Safaris. Common species to be seen include the Sacred Ibis, Egyptian Geese, the ubiquitous Cormorants and Darters, Spur-winged Geese, Pel's Fishing Owl, Carmine Bee-eaters, most members of the Kingfisher family, all the Rollers, the unmistakable Fish Eagle, the Martial Eagle, and many members of the Stork family.

Victoria Falls & Zambezi National Park
The falls are 1,7 kilometres wide and nearly 550 million litres of water cascade 70 to 108 metres into the chasm below -every minute- during the Zambezi River's peak flow. Victoria Falls is made of five different "falls". Four of these are in Zimbabwe: The Devil's Cataract, Main Falls, Rainbow Falls and Horseshoe Falls -and one, The Eastern Cataract, is in the bordering country of Zambia.
The rainforest area of Victoria Falls is filled with many unique species of flora and fauna. One can wander amongst the Fig, Mahogany and Date Palm groves while gazing at the falls from magnificent viewpoints.
Zambezi National Park together with Victoria Falls National Park cover an area of 56,000 hectares. The northern border of the Park is formed by the great Zambezi River which also forms the border between Zimbabwe and Zambia for much of its length.
A wide variety of larger mammals may be found within the Zambezi National Park including The Big Five: Elephant, Lion, Buffalo, Leopard and White Rhinoceros. In addition, herds of Sable Antelope, Eland, Zebra, Giraffe, Kudu, Waterbuck and Impala as well as many of the smaller species of game can be viewed.
Trip Report
This trip was made oktober 2014. Although it was an alround trip - visiting Landscape/Towns/Dessert/National Parks -, i did manage to find about 350 new species.
Boulder's Beach, with its wind sheltered bays and safe sandy shores, is home to a breeding colony of over 2.000 endangered African Penguins. To view the African Penguins and their nesting and breeding sites, a superb walkway has been established that takes the visitor on an intimate tour of the area these endangered birds call home. Beside the penguins i found Greater Crested Tern, Cape Cormorant, Karoo Prinia and Blacksmith Lapwing .
The most common vegetation type in the Table Mountain National Park is fynbos. It has a high level of endemism often with a species being endemic to an area of a few kilometres only. Some of the plants i photographed here are Cullumia squarrosa, Senecio eenii, Chrysocoma coma-aurea and Pelargonium betulinum. Beside these i had the first close encounter with Common Ostrich, Malachite Sunbird, Cape Bunting, Common Rock Hyra, Bontebok and Black Girdled Lizard.
The Cederberg Wilderness offers a network of trails spanning over 250km in total and varying from a morning to several days in length. Although trails are unmarked a day-trip gave me some nice results. (Tinkling Cisticola, Cape Canary, Cape Batis, Cape Robin-Chat, Spotted Sand Lizard, Montane Speckled Skink and Cape River Frog. Besides these i found plants (Delosperma cooperi, Erica quadrangularis and Rafnia amplexicaulis) and butterflies (Spring Widow, Vivid Blue and Silver Arrowhead).
The Oranjerivier, which forms Namibia's southern border to South Africa, is a quiet and peaceful river and its valley is hardly touched by tourism. A walk along the river was good for Southern Red Bishop, Karoo Prinia, Orange River White-eye and African Reed Warbler
Approaching the Fish River Canyon from the north is like driving across Mars. The vast rocky landscape breaks up into a series of spectacular cliffs, formed by the Fish River as it meanders between boulders over half a kilometre below. I this erea i found some off the region endemic bird-species (Spike-heeled Lark/Karoo Long-billed Lark/Sabota Lark/Karoo Scrub Robin). Beside these Hartmann's Mountain Zebra, Greater Kudu and Springbok were seen.
Lüderitz is a quirky town lodged in one of the best harbours on the least hospitable coast in Africa. It began life as a trading post, fishing and guano-harvesting town, but when diamonds were discovered in 1909 in nearby Kolmanskop, Lüderitz enjoyed a sudden surge of prosperity.
When arrivimg to Luderits look out for the Namib Desert Horse on the Garub Plains, near Aus. It is probably the only feral herd of horses residing in Africa, with a population ranging between 90 and 150. The most likely ancestors of the horses are a mix of riding horses and cavalry horses, many from German breeding programs, released from various farms and camps in the early 20th century, especially during World War I.
In the Luderitz-harbour i found one of the key mammal-species of my wanted-list the Heaviside's Dolphin; an other endemic species off this region.
Birds found here include Cape Gannet, African Oystercatcher, South African Shelduck and Hartlaub's Gull.
The Orange river has created the diamond fields at the Namibian coast. Over millions of years it washed diamonds from the Kimberley region in South Africa into the ocean. The currents of the ocean transported them to the north and the surf deposited them in the dune fields of the Namib. While there is still some small scale diamond mining going on today the Sperrgebiet is opened for a day-trip.
The Sperrgebiet has a diverse range of flora and fauna, due to little human intervention in the area for 100 years. Forty percent of the landscape is desert, thirty percent is grassland, and twenty-eight percent is rocky.
There are 776 types of plants in the Sperrgebiet, with 234 being endemic to south-west Namibia. So have a look for these succulents, some of which grow as tall as trees and many of which put on a stunning floral display after winter rains.
Don't miss this trip; the gost-towns, sanddunes plants are a truly unique wilderness experience.
South Africa - Namibië - Botswana - Zimbabwe
This list, give's you a nice idea of the things I h've photographed. So explore the list, to see nice picture's of different familie-goups; there are also detailed list available of the different species.
There are also some pictures available of the travelpages.
This trip is made possible by

The landscape of the Namib-Naukluft Park is just stunning, leading through rugged mountain massifs and wide gravel plains covered in desert varnish. The scenic highlight of a visit to the Sossusvlei, a huge clay pan, enclosed by giant sand dunes. Another attraction in Sesriem is the Sesriem Canyon. The Tsauchab River has formed a gorge millions of years ago. Steeply, almost vertically the rockwalls stand up, in parts 30 metres high. The insection measures only a few metres.
The bird-watching opportunities (especially on the camping-areas) are great. I found here Pygmy Falcon, Sociable Weaver, Rosy-faced Lovebird, Common Grenadier, Black-chested Prinia and Pied Barbet.
Mammals found here include Gemsbok, Yellow Mongoose and Damara Ground Squirrel.
I also did find some butterflies (Velvet-spotted Babul Blue, Desert Orange Tip and African Babul Blue) and reptiles (Variable Skink and Namaqua Sand Lizard)
Palm-lined streets, seaside promenades, fine accommodation, a pleasant summer climate and decent beaches; Swakopmund is one of Namibia's premier holiday resort!.
But just at the southern border off this town the Swakop Estuary, with a mix of reed beds and sandy beach; find a sheltered spot and you should be rewarded with a variety of waders and land birds. i did see here Chestnut-banded Plover, White-fronted Plover, Kittlitz's Plover, Cape Teal, Sandwich Tern, Southern Masked Weaver and Black-winged Kite.
Walvis Bay lies some 30 kilometres south of Swakopmund. The town is situated at a wide lagoon, which is one of the most important wetlands of southern Africa and is the hibernation area for thousands of migratory birds. Species found here are Curlew Sandpiper, Lesser Flamingo, Greater Flamingo, Cape Gull, Great White Pelican, Sooty Shearwater, White-chinned Petrel and a colony off the South African Fur Seal.
Etosha National Park is unique in Africa. The park's main characteristic is a salt pan so large it can be seen from space. Yet there is abundant wildlife that congregates around the waterholes, giving you almost guaranteed game sightings. Interesting species i have seen on the game-drives are: Lion, Black-backed Jackal, Spotted Hyena, Brindled Gnu, Steenbok, Damara Dik-dik, Red Hartebeest, Kori Bustard, Secretarybird, Blue Crane, Greater Kestrel and Lappet-faced Vulture
Okaukuejo is the oldest tourist camp in Etosha and it also functions as the administrative centre of the park. The main attraction of this camp is that it overlooks a permanent waterhole which is floodlit at night. Here a wide diversity of wildlife congregate. The spectacle starts at dawn, with animals coming in large numbers to quench their thirst. The activity continues throughout the day until late at night.
Moste worth noting species i have seen are: White Rhinoceros, Black Rhinoceros, Black-faced Impala, Smith's Bush Squirrel, Barred Wren-Warbler, Chestnut-vented Warbler, Fiery-necked Nightjar, White-crowned Shrike, Burchell's Glossy-Starling, Carp's Tit, and African Scops-Owl.
Although the density of species will be higher in the East African parks, i think the diversity in Etosha is higher;
so Ethosha it's one off the must-do things in Africa
Botswana's Okavango Delta is a facinating and unique wildlife location. It is the worlds largest inland delta and situated in an extremely arid region attracts great concentrations of diverse animals and birds. The main activities to be done here are the Mokoro traditional canoe trips, which are managed through the Okavango Poler's Trust organisation; a community based-organistion.
The delta was my place to see African Clawless Otter, Hippopotamus, Giant Kingfisher, Comb Duck, African Pygmy Goose, Yellow-billed Duck, African Green Pigeon, Green Wood Hoopoe, Grosbeak Weaver and Bennett's Woodpecker.
The other things i have seen include dragonflies (Southern Banded Groundling, Blue Emperor, Blue Basker) Butterflies (Common Sailer, Guineafowl), Plants (Jackalberry, Sausage Tree, Chinese Water Chestnut), Reptiles & Amphibians (Painted Reed Frog Nile Monitor) and Insects (Praying Mantis, Walking sticks).
I encourage this way off visiting the delta. The will help to learn the local-people, that sustainable tourisme, can give them benefits: so that will harness them to save the natural environment.
Undoubtedly one of Africa's most beautiful rivers, the Chobe supports a diversity and concentration of wildlife unparalled anywhere else in the country. Taking a river cruise – and you'll experience the park, and the animals, from another vantage point.
It was verry successfuly during this cruise getting some good pictures off wanted birds (Grey Crowned Crane, African Skimmer, Red-billed Spurfowl, Bateleur) and mammals (Vervet Monkey, Red Lechwe, Ellipsen Waterbuck).
During this visit i also mannaged to get some nice pictures of butterflies (Brown Commodore, African Ringlet, Colotis amata) and dragonflies (Pied-spot, Common Tigertail, Violet Dropwing)
Chobe river cruise; finding African Skimmer/Red Lechwe it was one off the highligts off this trip
"Mosi-oa-Tunya," the smoke that thunders, is more commonly known as Victoria Falls was the end off my trip. Some not to be missed species i have found here were Bushbuck, Crested Barbet, African Harrier-Hawk and Rainbow Skink